These are a few of my favorite things…
Christmas has really snuck up on me this year! We've had a super crazy schedule with sports, getting sick and everything in between. But I think I've finished all of my shopping and I'm ready to wrap it all up and put it under the tree!
In case you're stumped on what to tell people when they ask you for Christmas ideas, I wanted to share a few things that I have and use… and love!
These are a few of my favorite things…
Peloton Bike+: If you've been here for awhile or even if you are new here, you probably know that I love my Peloton. It's been my saving grace in so many ways and I can't imagine not having it in my life! I've written a few posts about it, like "Is a Peloton bike worth it?" and "Peloton Bike vs. Peloton Bike+…is it worth it?"  I have a ton of great information in there, plus you can save $100 off if you use my code! 7SVMQ5. And if you already have the bike, here's a post I wrote on some of the best accessories for the Peloton bike! Apparel is always a good choice too 🙂
Perfume: I received a sample of Le Jour Se Leve the last time I purchased a bag and fell in love with it. It smells sooooo good and a little goes a long way so it will last you a long time! You can either buy the perfume or buy a set with a travel case… so so cute. I also got a sample of Burberry Brit and think that smells amazing as well! And it's a lot more affordable 🙂
Lipstick: I purchased this Rouge Volupté Shine Lipstick Balm  on Black Friday! It is soooo smooth and pretty sheer so it just enhances your natural lip color and feels so good! And the packaging is next level! My other favorite lipstick is Pillow Talk by Charlotte Tilbury and it's the perfect nude… it looks good on everyone!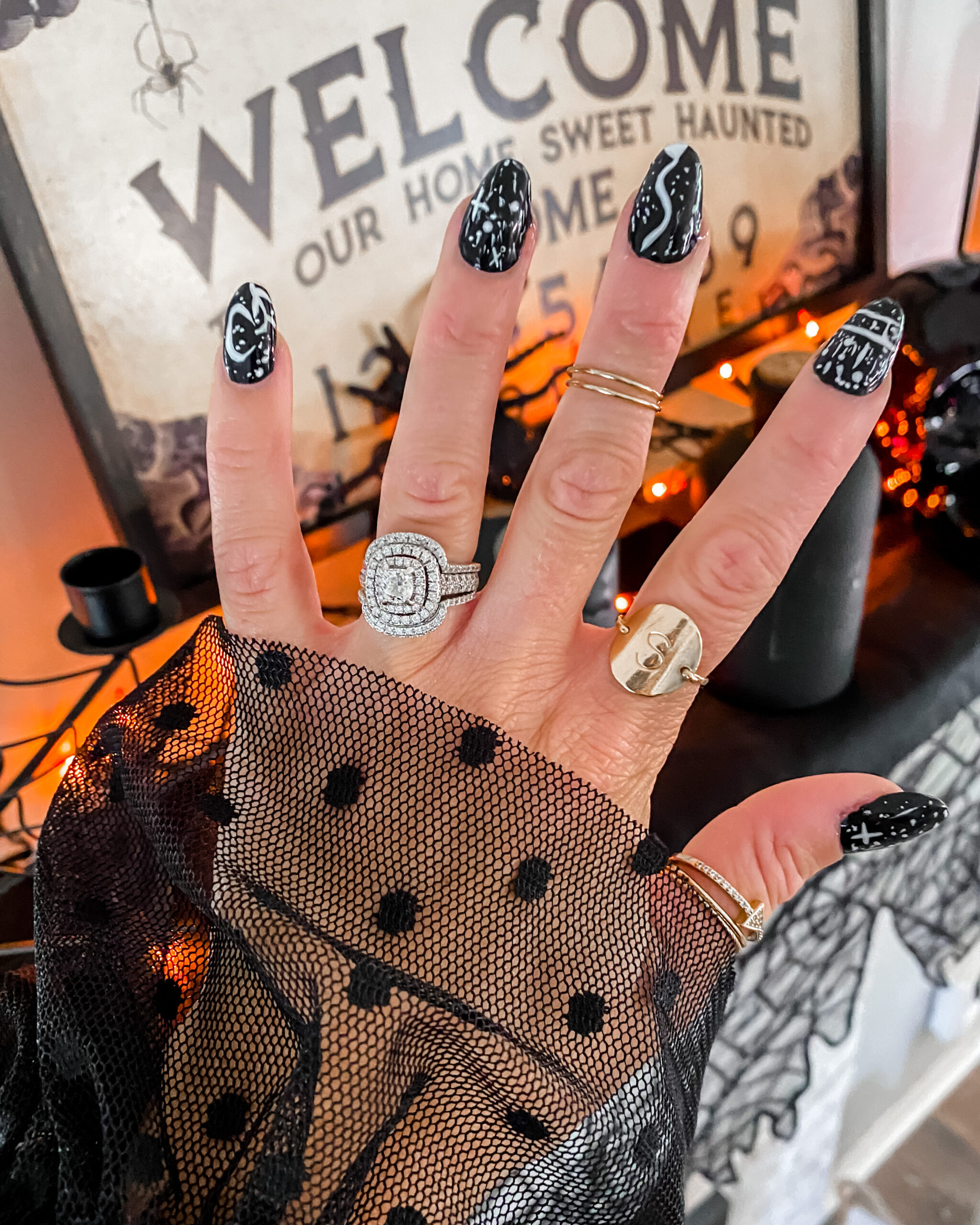 James Michelle rings: Her rings are my absolute favorite, I have these ones:
Favorite quote ring (I got my kids' names)
And I would love to add this Eclipse one to my collection!
Barefoot Dreams Blanket: Everyone and their mom has been talking about Barefoot Dreams blankets for the longest time but I've never wanted to oull the trigger on one due to the price tag. BUT I just found some that are currently 30-40% off! Check them out here!
Teddy Blake bag: If you've never heard of Teddy Blake, you've been missing out! They source their materials from the same Italian pelleteries and use the same factories as other luxury bag brands, however without the markup and price tag. Their bags are handmade in Italy and they are absolutely stunning and the quality is impeccable. They believe luxury should be affordable so their products are luxury quality at affordable prices. And let me tell you, they are absolutely beautiful. From the quality of leather to the hardware and stitching, their expert craftsmanship will make sure your bag lasts a lifetime! You can check out their site here; in addition to bags they also have wallets, cardholders and more! Teddy Blake sent me the Ava Gold 14" in light beige and I'm so in love! It goes with everything!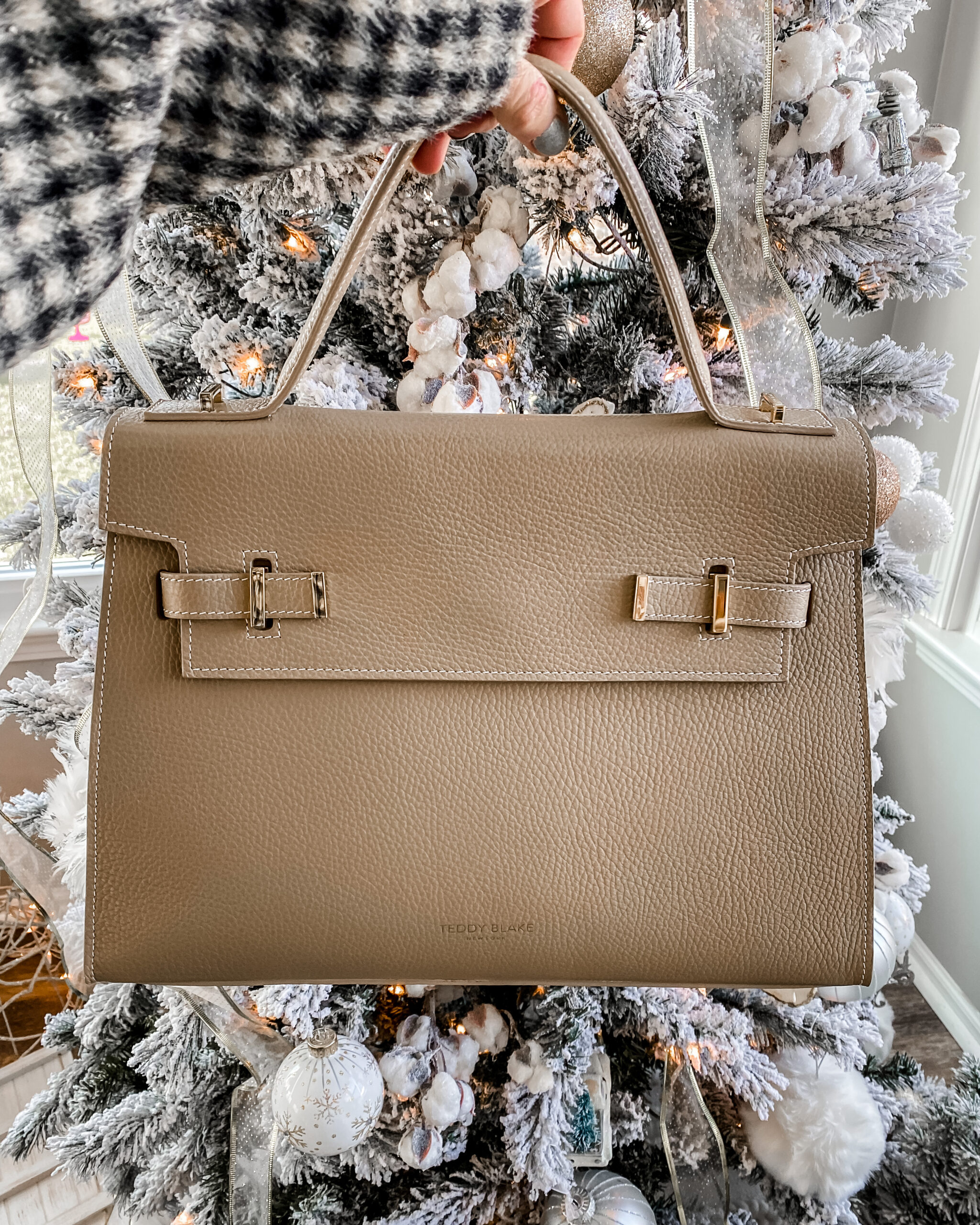 The Sis Kiss: The Sis Kiss is majority of my jewelry collection but I saw her share this Customized Tennis Chain Plate Necklace on Instagram the other day and I am adding it to my list ASAP. Is it not adorable?! And use code SAM15 to save some $$ 🙂
Orca drinkware: Whether you're looking for a new cooler or the perfect cup to take with you to sporting events, tailgates, etc, Orca has you covered. The Vino pictured above is my favorite for the summertime; it's double walled, vacuum sealed, and keeps your drink cool while you're on the boat! I also use my Chaser daily to keep my water cold. Their straws are some of my favorites as well; they are silicone on top and stainless steel on the bottom! Be sure to check out their site and add some favorites to your own personal wish list! But I guarantee you'll find great gifts for everyone else on your shopping list too!
Cozy joggers: These are some of the most comfortable pants I own! They come in a ton of colors and they're only $20! Can't go wrong with a nice pair of comfy pants!
Apple Watch: I use my Apple Watch every single day. My favorite function (and most used function) is probably the "find my phone!" haha but I also love the EKG, the ability to pair it with my Peloton, being able to leave my phone wherever and have messages/calls/and emails come to my watch. I have the Series 6 but they have a ton of different series options depending on the budget!
Keurig: Coffee drinkers, unite! We got this Keurig last year and love this model. I love that you can froth milk in addition to brewing the coffee and also make cappuccinos and lattes. We definitely get our use out of this!
I'm also going to go ahead and add this blog post with 30+ Luxe gift ideas because I would be happy with every single one of these items! And they're all under $50 🙂
And there you go! I hope I helped you with a few ideas but if all else fails, take a trip! Adventures are the best gift of all 🙂 Happy holidays!