Holidays leave a bitter taste in my mouth. Despite the fact that my husband is home this year, it brings me back to this time last year when he was fighting a war in Afghanistan. I know I should be thankful that he made it home and that we have the holidays to celebrate, but something about them just turns me into a giant scrooge.
I was trying to find a picture to post from this time last year, and the best one I could find was my pregnant belly. I guess I was kind of a hermit when my husband was gone and especially on holidays. It was how I dealt with him being away; everyone handles that kind of thing differently.
21 weeks and 5 days pregnant this time last year
However, I'm going to try to put those feelings behind me and enjoy the beautiful New York weather (for once) and celebrate Labor Day with my loves.
This past weekend has been kind of crazy for us. Hubby has a cold, Bubba is cutting a tooth, and my allergies are out of control. But, the show must go on!
Speaking of show, my favorite college football team put on quite a show this past Saturday. The Ohio State Buckeyes played my alma mater, The Miami Redhawks, and to put it nicely, the Buckeyes crushed the Redhawks. I've been a Buckeye fan since I was in diapers, so naturally I was rooting for them.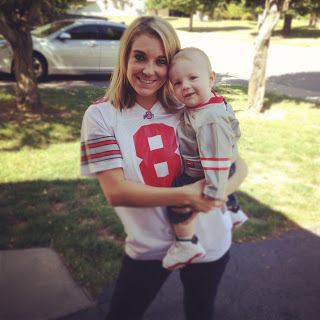 Even Bubba sported his OSU jersey!

I attended my friend's baby shower yesterday to celebrate Baby A coming into the world soon. Of course I caught the oh-so-contagious baby fever and it got me thinking…when should Baby #2 happen for us? How soon is too soon?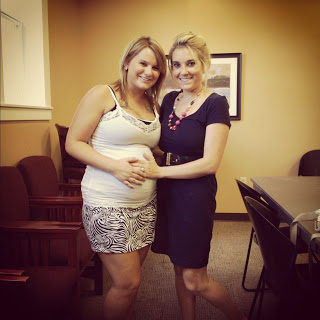 BABY!
I changed my Instagram name to HOOAHANDHICCUPS (naturally) so I would be easier to find. Find me on there and take a look at my life behind the blog! I'd love to follow my readers back as well 🙂
Since today is #YOLOMONDAYS, browse the awesome blogs below and send them some love! You can head over to
Lipgloss and Crayons
to read more about it!
And last but not least, don't forget about the giveaway going on!! Only 58 entries…you can earn them daily! Good luck 🙂