Christmas style: Neutrals + Last Minute Gift Ideas
This is a sponsored conversation written by me on behalf of Meijer. All opinions and thoughts are my own. 
Is anyone else having super weird weather where they live? We've had blizzards and then days with temps in the 60s. I don't even know how to dress at this point and to be honest, I'm looking forward to the cold and the snow. I know, who am I? I used to despise the snow and I will probably be singing a different tune in March or April when it's still snowing here. But for now, I'm looking forward to it. It doesn't feel like Christmas without snow so bring on the flurries!
We tend to have a pretty casual Christmas around here; we host our family Christmas party the day before Christmas Eve and then we go to my parents' house Christmas Eve and Christmas Day. Some years we wear ugly Christmas sweaters, other years we all wear matching pajamas, and other years we just wear something comfortable and semi-casual. So this year, I opted for a neutral Christmas dress that could be styled a ton of different ways! And for more occasions than just Christmas. And while this isn't what you'd call a "traditional" Christmas outfit, it's dressier than I get on a normal Tuesday so I'm rolling with it!
I got my entire outfit from Meijer! Dress, jacket, boots, sunnies, and bag! So cute right?!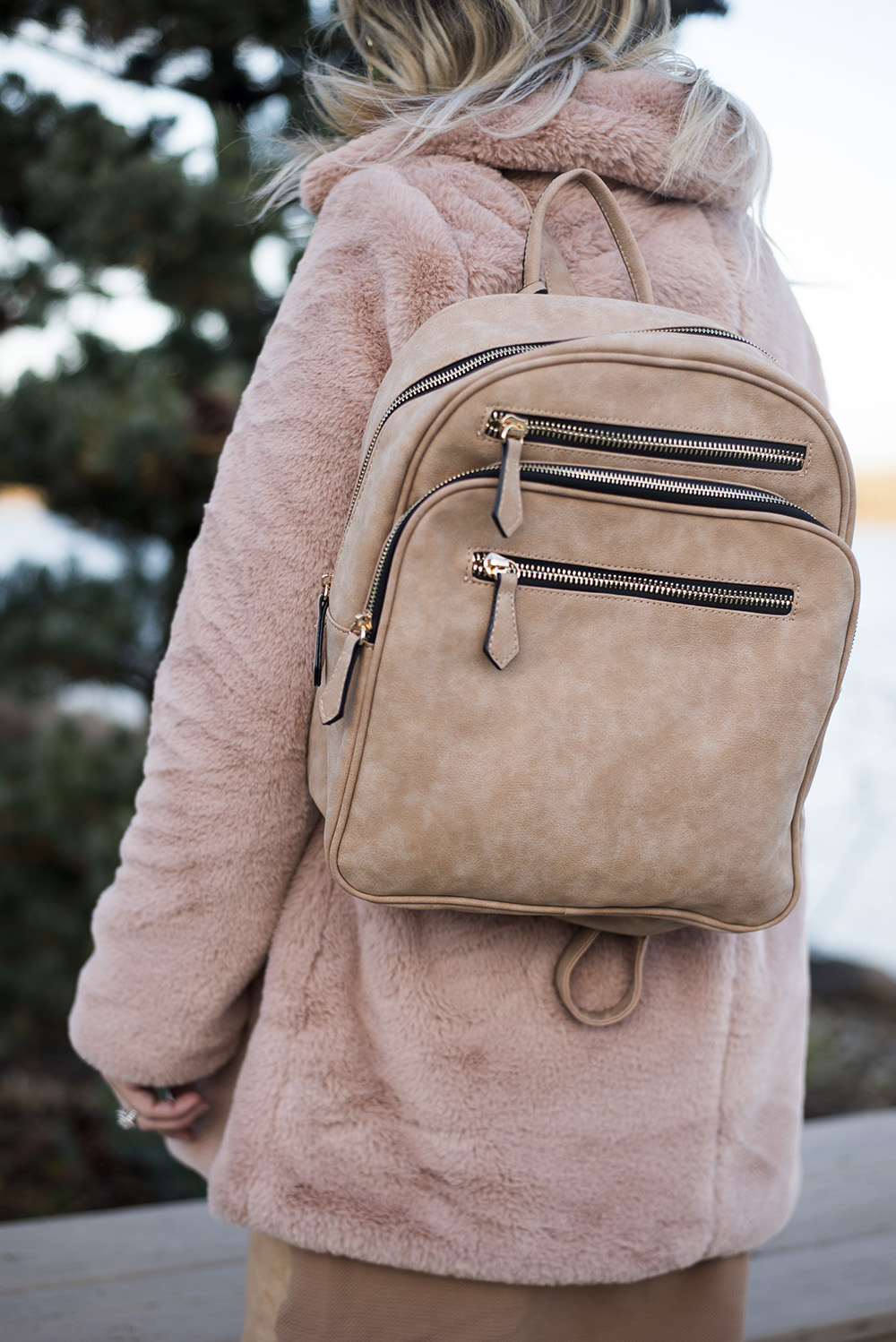 I originally wanted a neutral or tan pair of booties to wear with this outfit but then decided to go with black to add some contrast. Plus, a black pair of knee-high boots are pretty much a must have during the fall and winter seasons so this felt like the right direction to go in. Because it is so cold, I probably would have opted for tights with this outfit had I not had the tall boots!
I loved this backpack because it also makes the perfect diaper bag! And while I bought it for myself, it would have also been the perfect gift for any lady on my shopping list. As would these cozy socks, hats, and scarves. Want to know one of my longest and best kept secrets? I keep a tote in my house with extra gifts than I collect on random outings during the year. So when holidays or birthdays come around, I can pull items from there to gift people. With three kiddos and a crazy work life, it's necessary to be ahead of the game. Now the only problem I have is deciding which pair of socks I'm keeping for myself…
Are you ready for the holidays?! How do you choose what to wear and what to buy everyone on your list?! 
This is a sponsored conversation written by me on behalf of Meijer. The opinions and text are all mine.