When my husband and I first stared tossing around the idea of renewing our vows, I had no idea how it would pan out. Could we afford it? Would people come? Could people come? Would we do a ceremony? Would it be like a traditional wedding? We had no idea where to start but in the end, it was one of the most magical days of my life and I am beyond glad we did it!
Quick backstory: my husband and I never had a "traditional" wedding. We got married in a garden with just our parents, right after his Turning Blue ceremony from Basic Training. We did this so I could be on his orders and move with him when he found out his first duty station. We had planned to have the "reception" portion that June but as soon as he got to our first duty station, he deployed to Afghanistan. We cancelled the wedding, I returned my dress, and we hoped to do something the following year. Well I had a baby the following year and then life got in the way. So we never got to have that moment.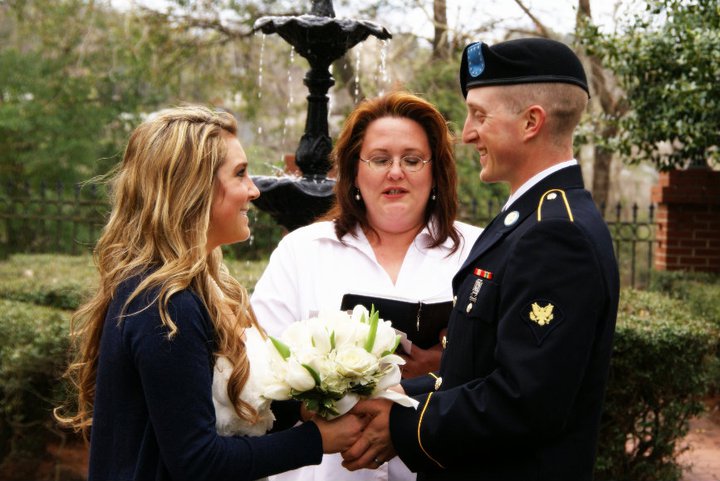 Fast forward to our 10 year anniversary in March. We started talking about throwing a big party to celebrate the way we had always wanted to. Some recommended Haus of Cool on Instagram and at the time, this seemed like the perfect option. They do Pop Ups in the Park, and essentially set up a wedding ceremony and couples come through every hour and getting married. She takes care of everything from photographer to flowers to cake. It's an awesome deal! So we had planned to do that and then plan the reception for later in the day.
We wanted to keep it intimate; our guest list consisted of family and a few friends, which totaled around 80 people. As much as I wanted to invite everyone we know and love, I knew it wouldn't be an option for us. So we had to keep it small with just family, which ended up being a good number.
We booked our venue and through the process discovered that we could also have the ceremony at the same place. This meant inviting everyone on our list (vs. the cap of 30 previously), and less of a gap between ceremony and reception time. So ultimately for us, this seemed like the better option. We also learned that 8/21/21 was the only date they had available so it seemed like fate! And this wasn't the first time this would happen <3
We fell in love with the Aurora Inn the first time we saw it. I had always wanted an outdoor reception and their tent was perfect. They also offer two rooms inside, the Ballroom and the Veranda. We ended up using the Veranda for our ceremony and the outdoor tent for our reception. Cindy and Lulu at the Aurora Inn were an absolute dream to work with. Since I had never planned a wedding before, I had no idea what I was doing! They guided me every step of the way and were super responsive when I had a million questions via email.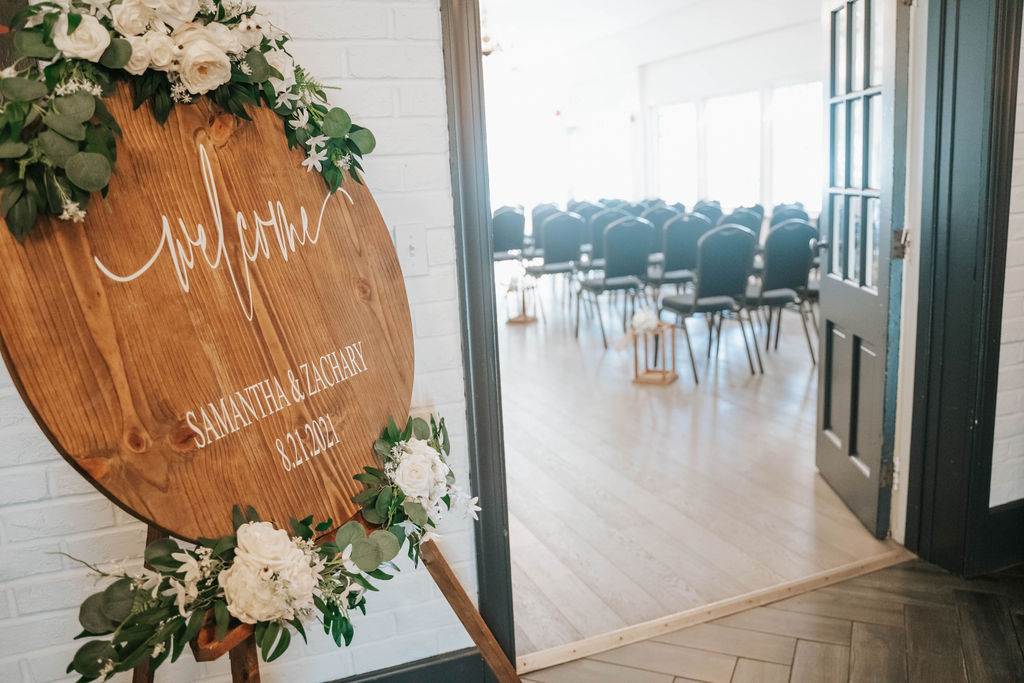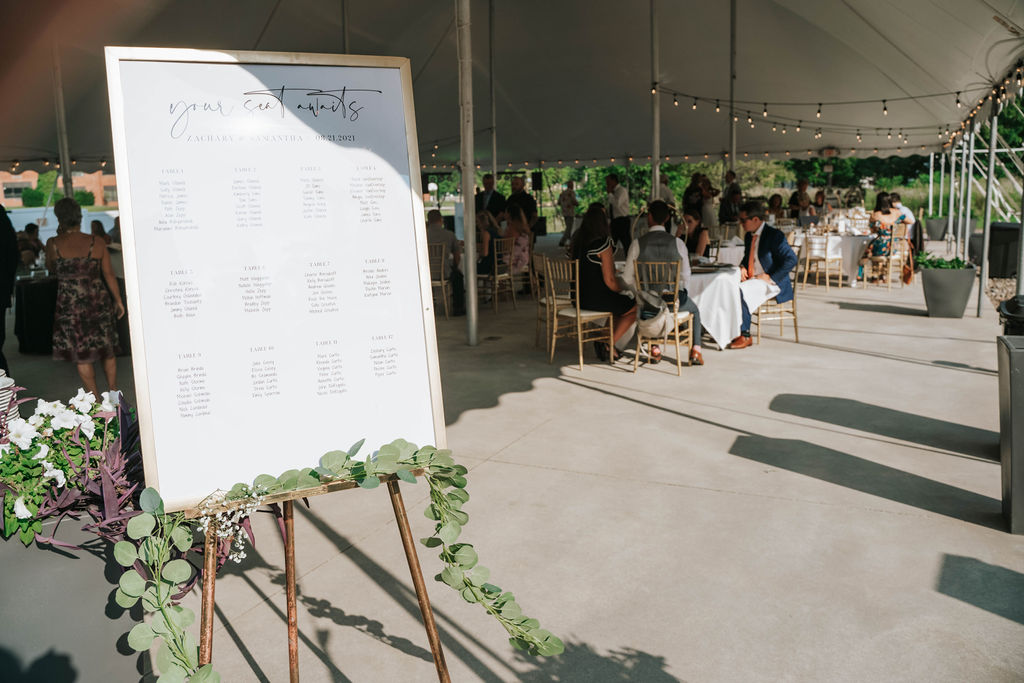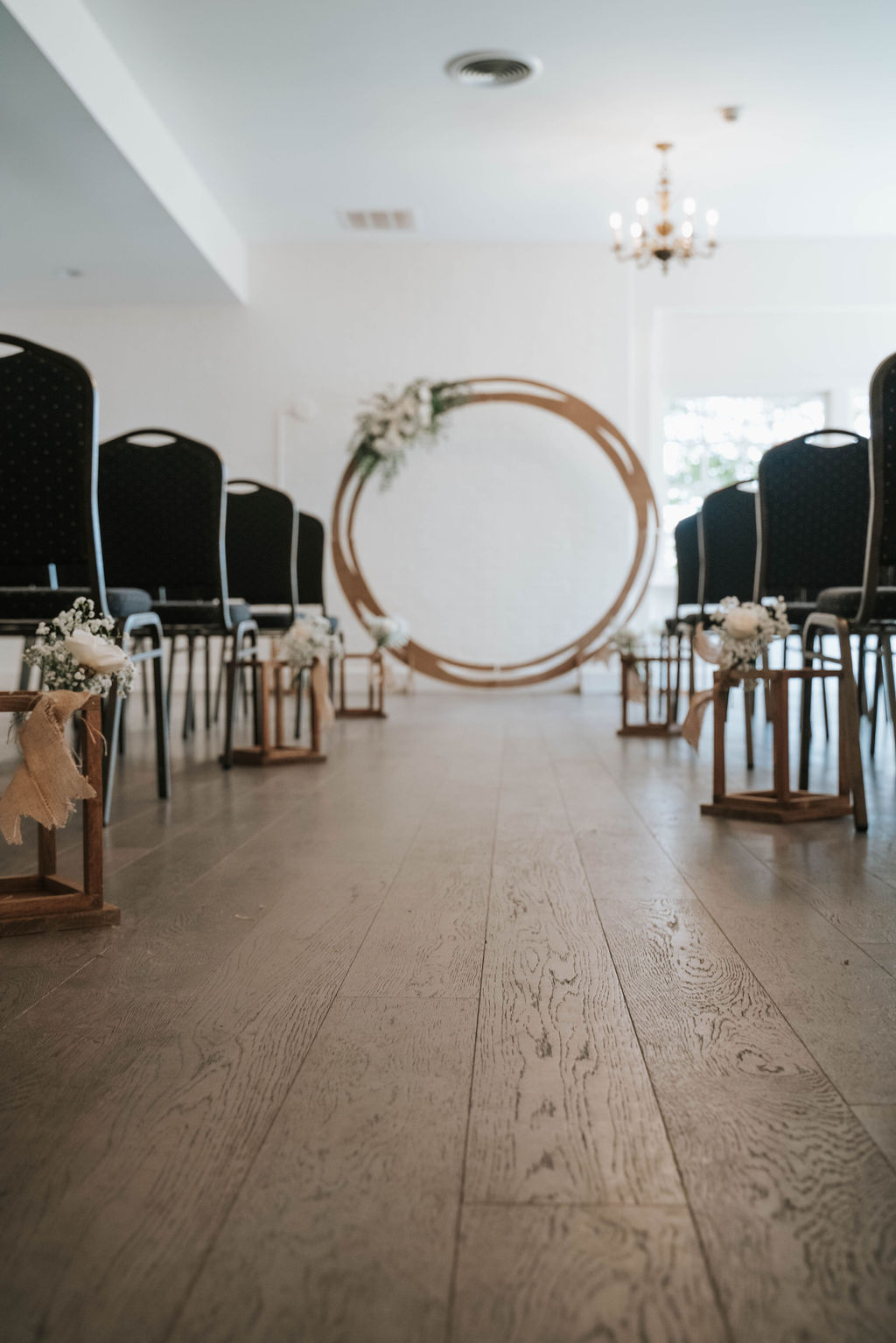 We sent out invitations from Minted and went with the All-in-One option which includes the postcard for the guests to mail back. This made it so easy and was the most economical way to do it! It also comes with the clear stickers to seal, and they offer free address addressing which was a lifesaver. You can also use a free Minted website to collect RSVPs as well, so we put that on there as an option too.
Next step in the process was finding all of the decor! I began to look on resale Facebook pages, Amazon, etc, but it was looking like it was going to add up pretty quickly. Plus, what was I going to do with everything afterwards? Selling is a giant pain! Well luckily I had seen someone share Party Dreams Cleveland in the resale Facebook group and it was a dream come true! For a $400 flat rate, you can rent as much or as little of the decor they have. From lanterns, arches, votives, welcome signs, and so much more! There were a few items that were an upcharge (personalizing the welcome signs with our names) but it was an amazing deal and such an easy process. She sent over a Dropbox with all of the items available and I marked which items I wanted on a spreadsheet. We picked up everything the Wednesday before and returned everything the Monday after. I will say to book ASAP because there are some items that only have 1 of each and there are two brides each weekend. The earlier you book, the better chance you have at getting everything you want!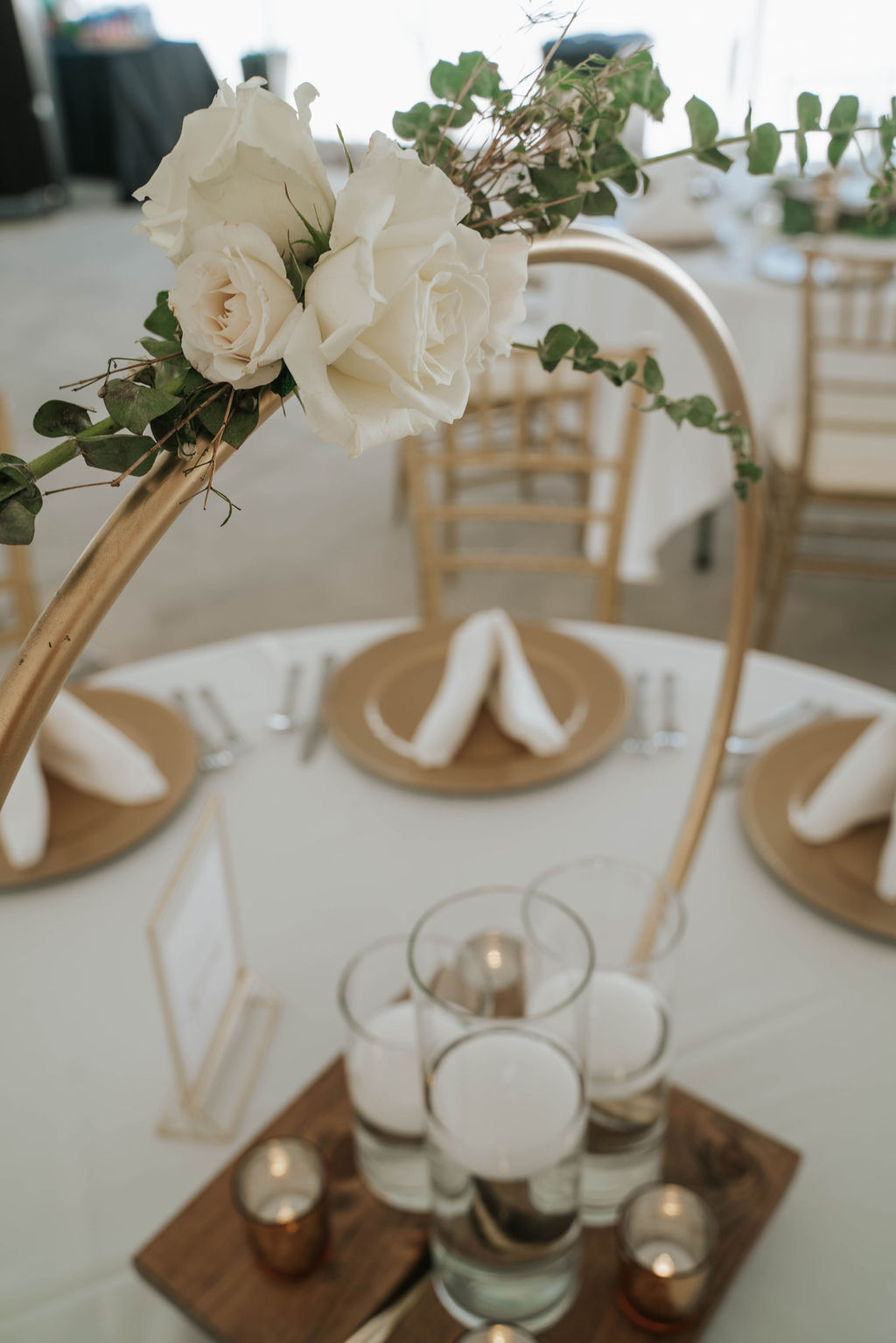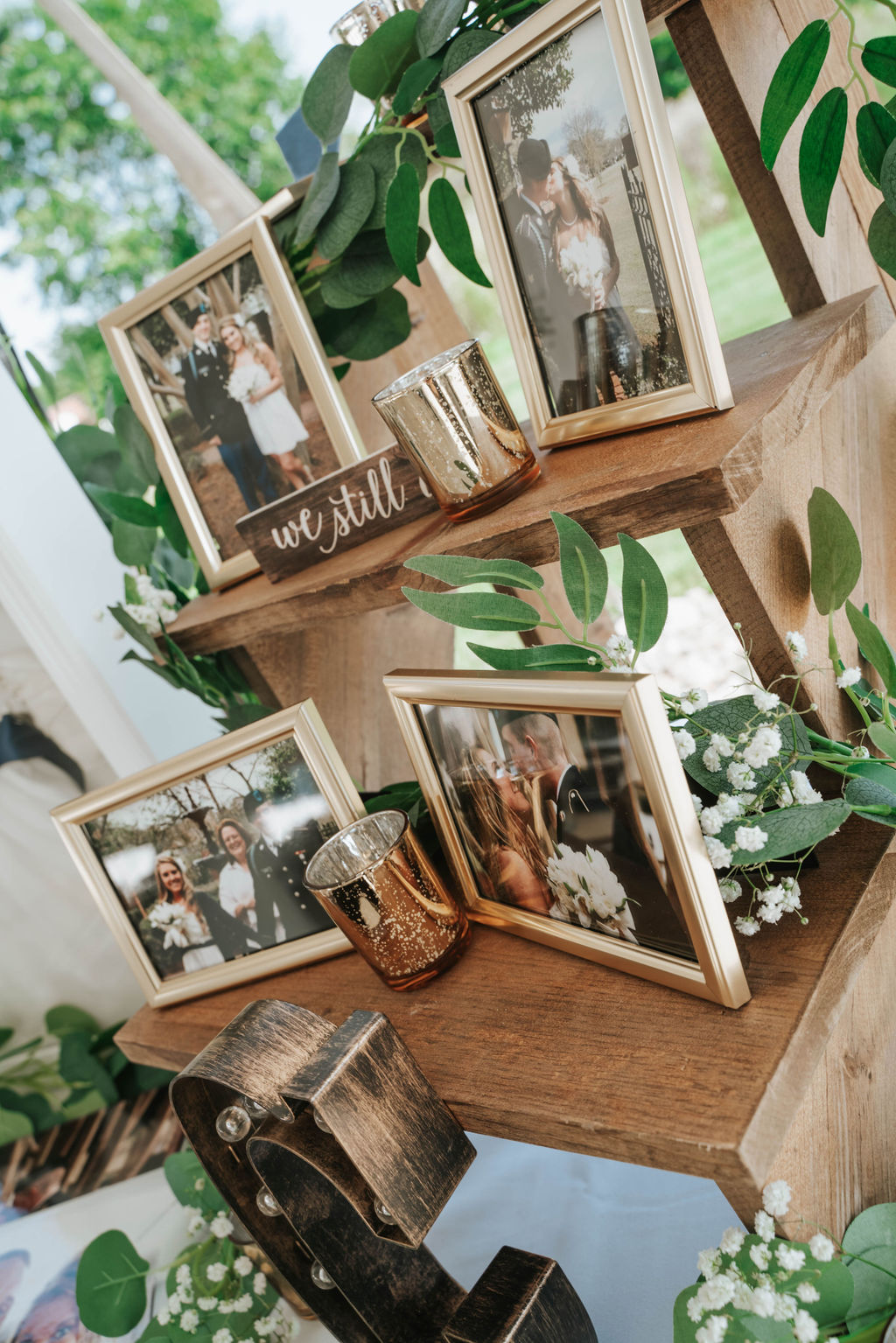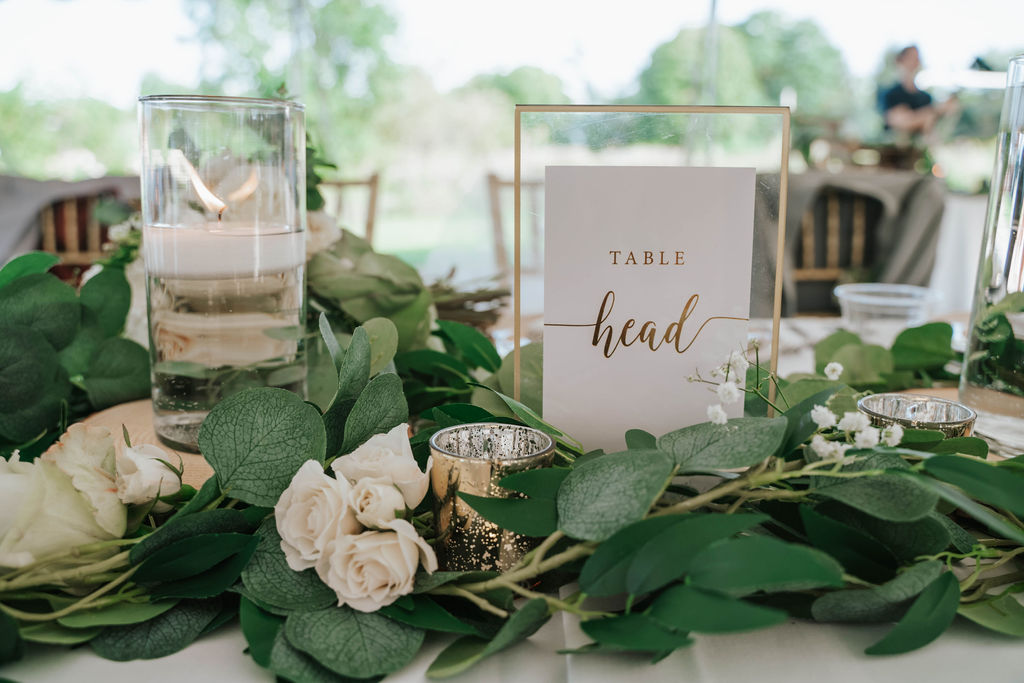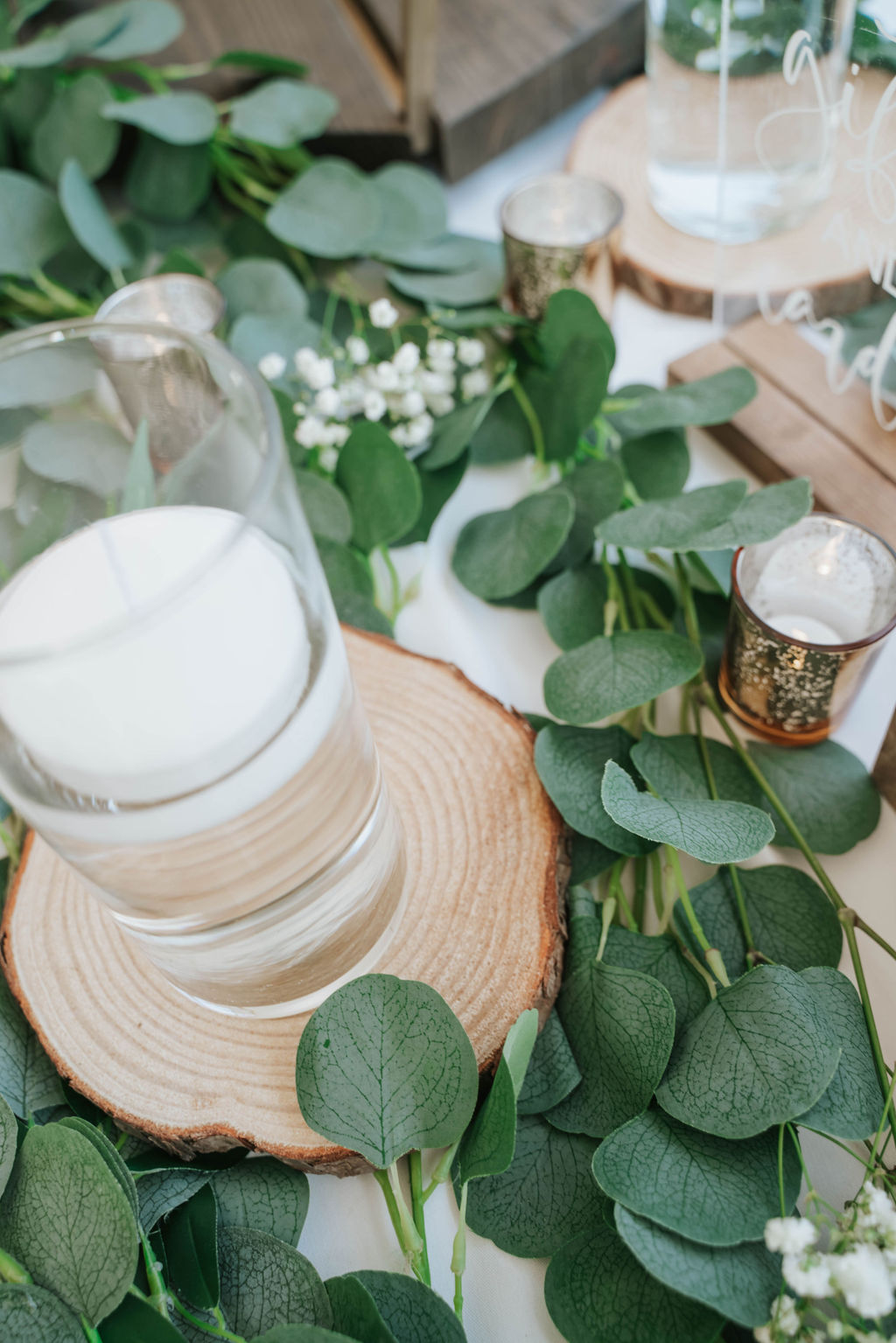 Since we had always envisioned a big party with lots of dancing, the DJ was one of the most important vendors I was concerned with booking. I reached out to a few companies; one never called me back and I don't think I even heard from a few past the first inquiry. But thankfully, Rock the House got back to me AND it was the company I really wanted. I had grown up with RTH at all of our school dances and knew they would put on a great show. I met with Jeff via Zoom a few times and it was like catching up with an old buddy (and literally was because we went to high school together haha). But again, 8/21/21 was the only day they had availability so it was just meant to be! The music was AWESOME the entire night. The dance floor was packed the entire night, just how we had always envisioned it!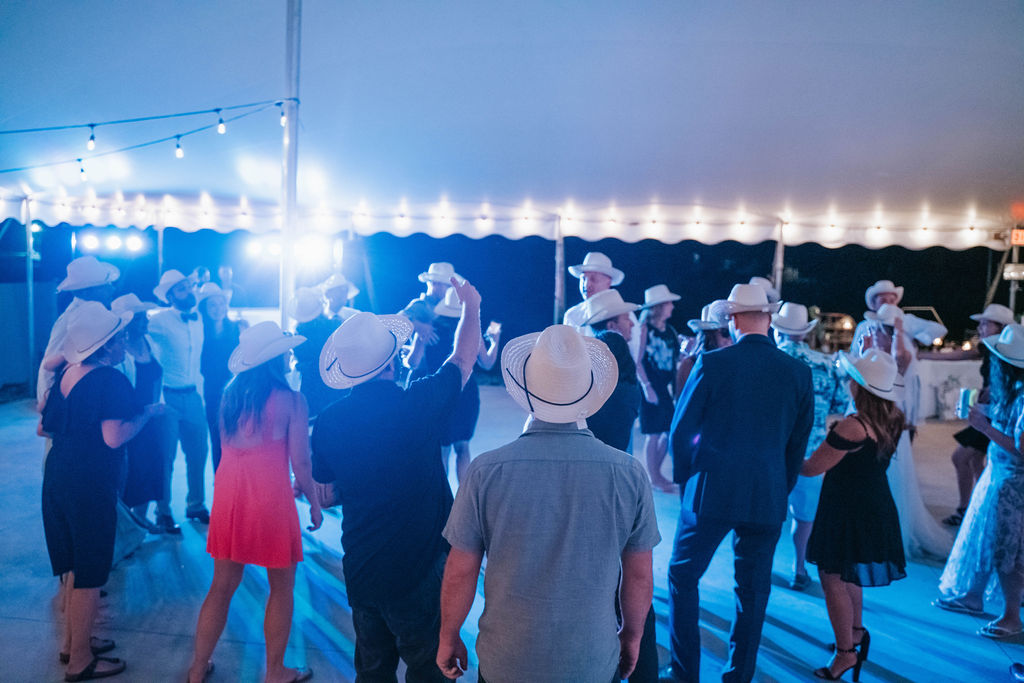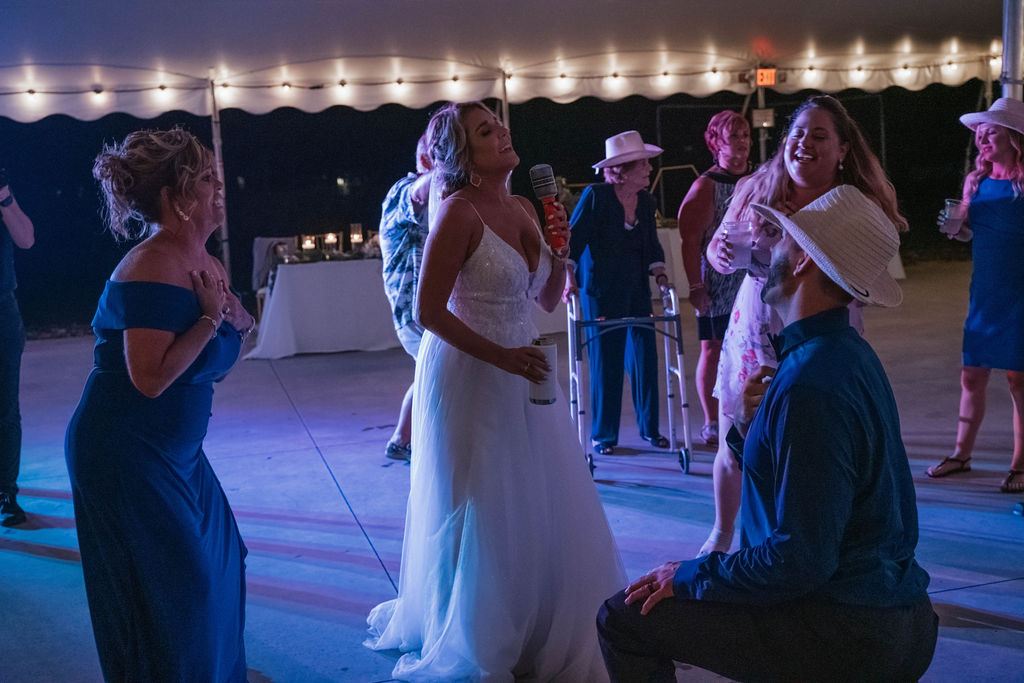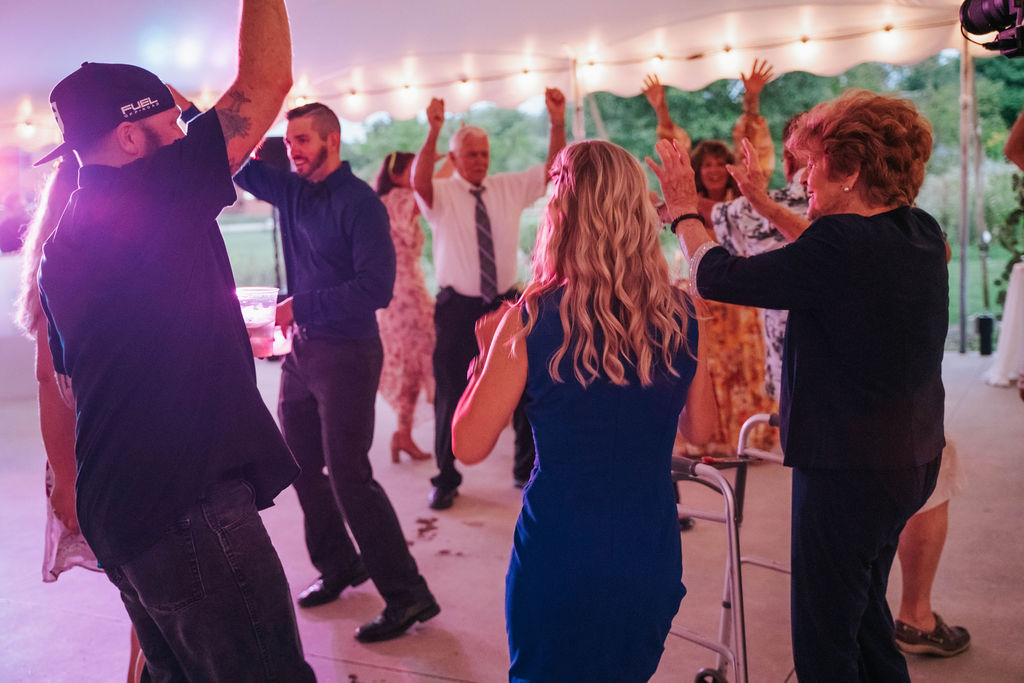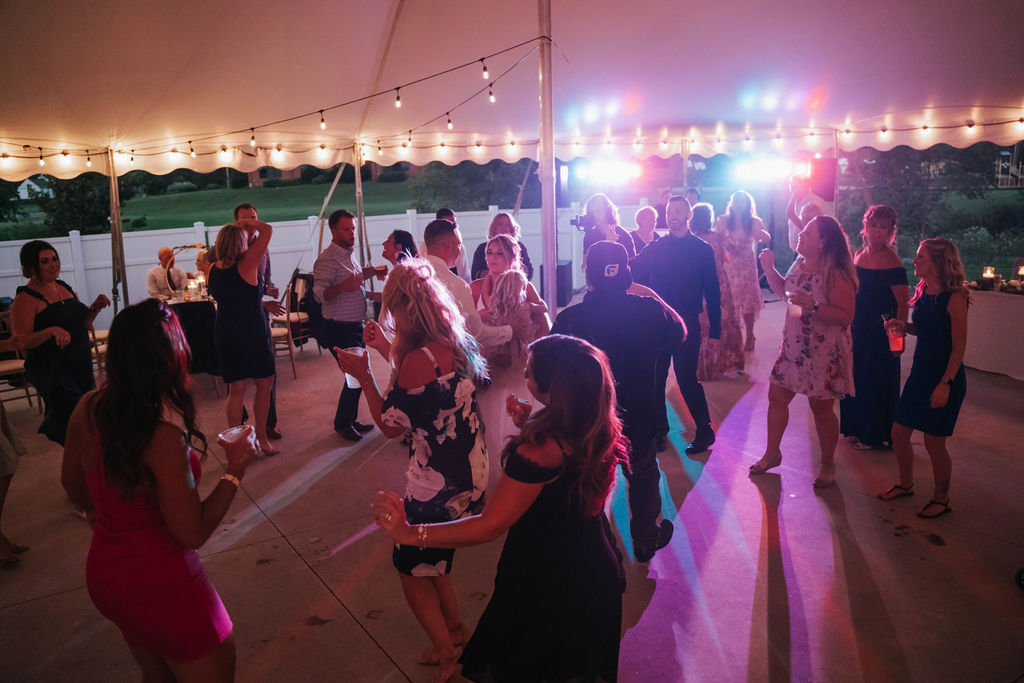 Next came finding the photographer and videographer to document the day. This was also another important vendor to lock in since we don't really have those memories to look back on the first time around. More than posed photos, I really wanted to capture those candid moments. I LOVE my friend Hallie's work and despite her not being a wedding photographer, she offered to photograph our special day. We've "known" each other for 10 years online but didn't meet until the day before our vow renewal. Did I mention I flew her up from Florida? And let me tell you, it was probably the best money I spent. She blew all of my expectations out of the water and I am obsessed with every single photo she gave to me. Be sure to check out her work here!
A videographer wasn't in my original plan but as I was planning and doing all of the coordinating, I realized that I did indeed want the video. Everyone I have ever talked to said the videographer was the best money they spent, and those that didn't have one said that's their one regret. So I reached out to a ton of companies and ultimately felt Hitched Creative was the best fit for us! We're still waiting to see the video but I know it will be worth the wait! Our videographer was Ben and he was phenomenal; knew exactly what shots he needed to get but also just hung in the background and captured the day as it unfolded. I am so looking forward to watching our footage for years to come!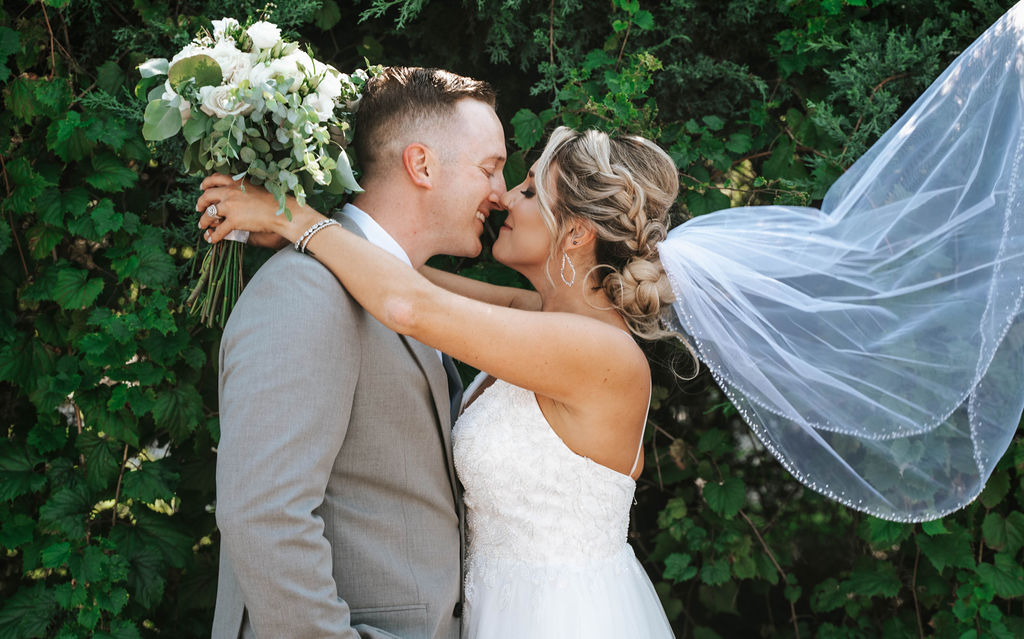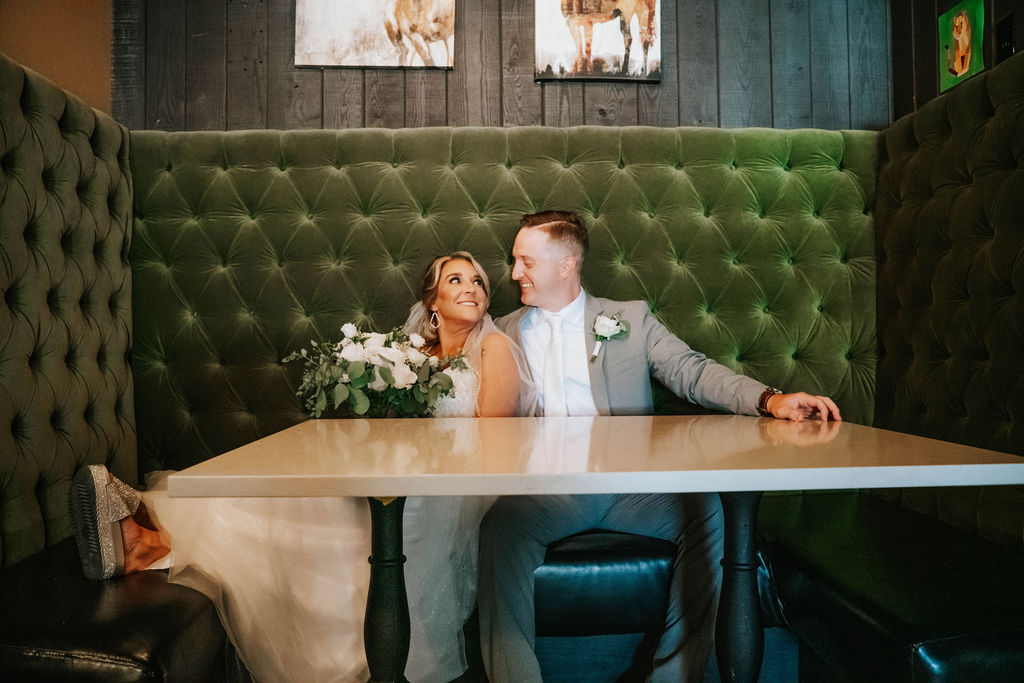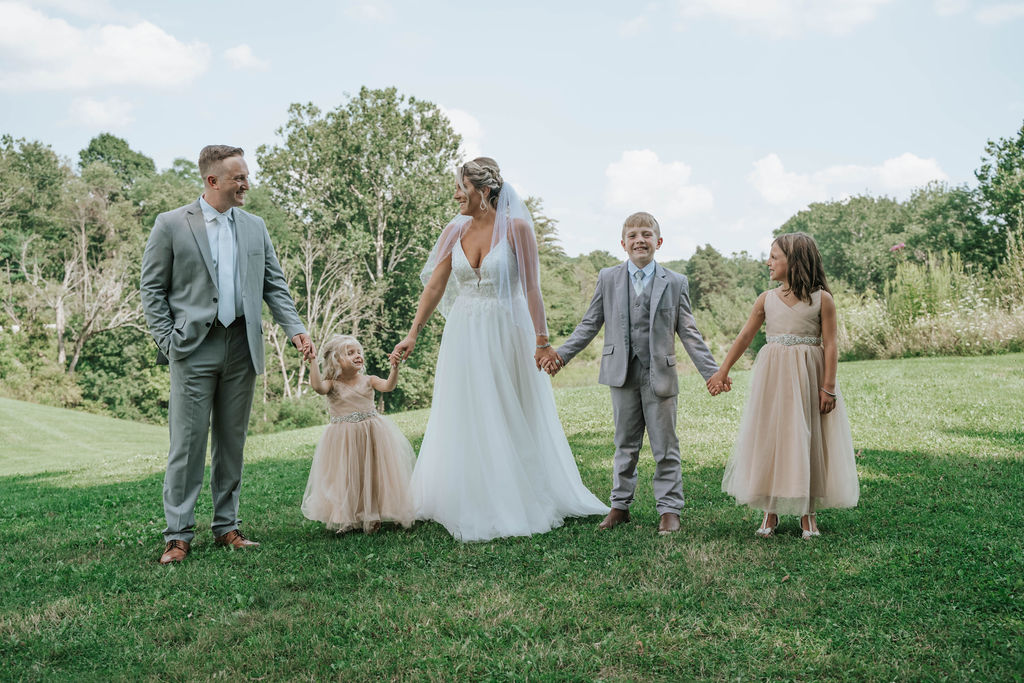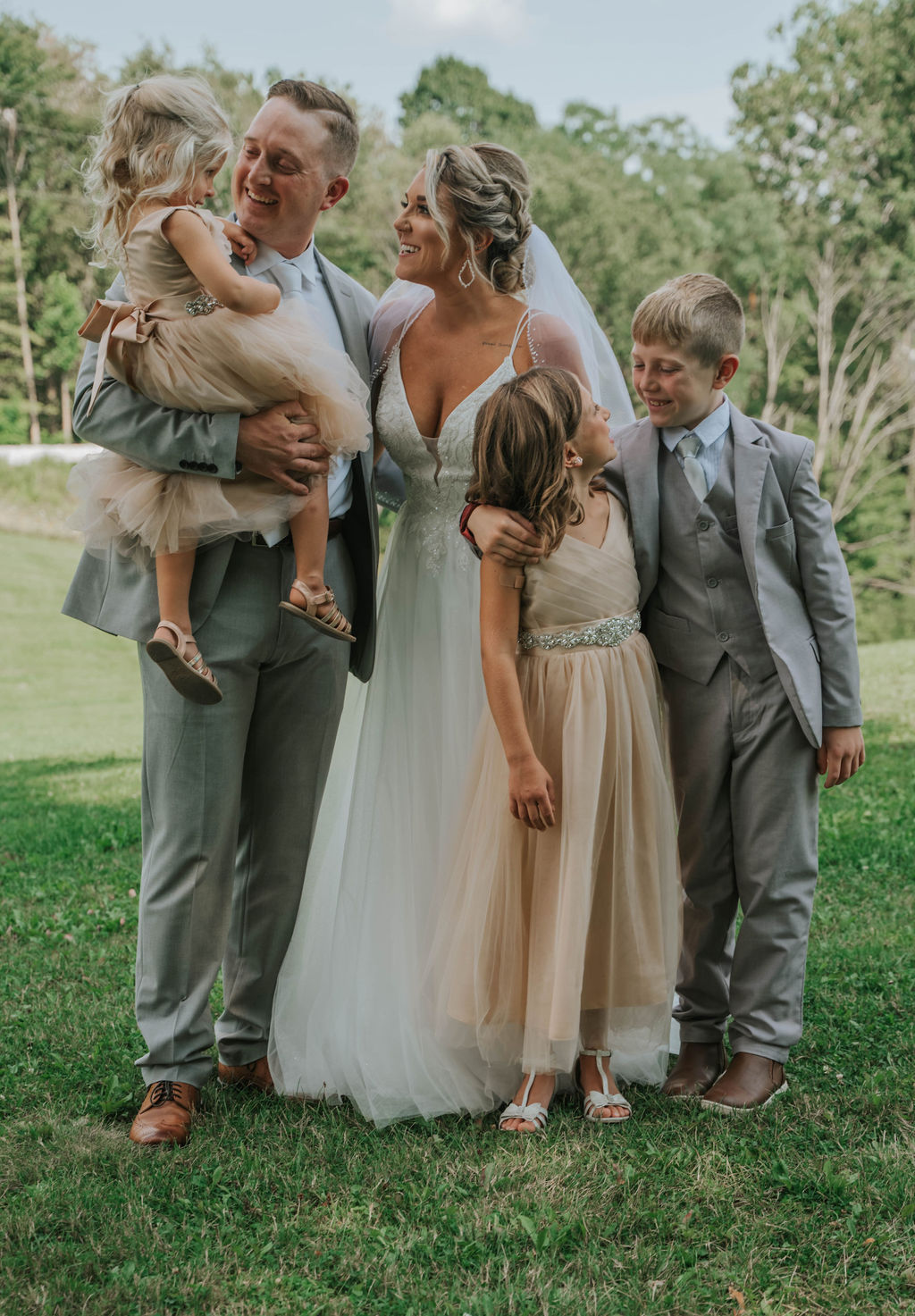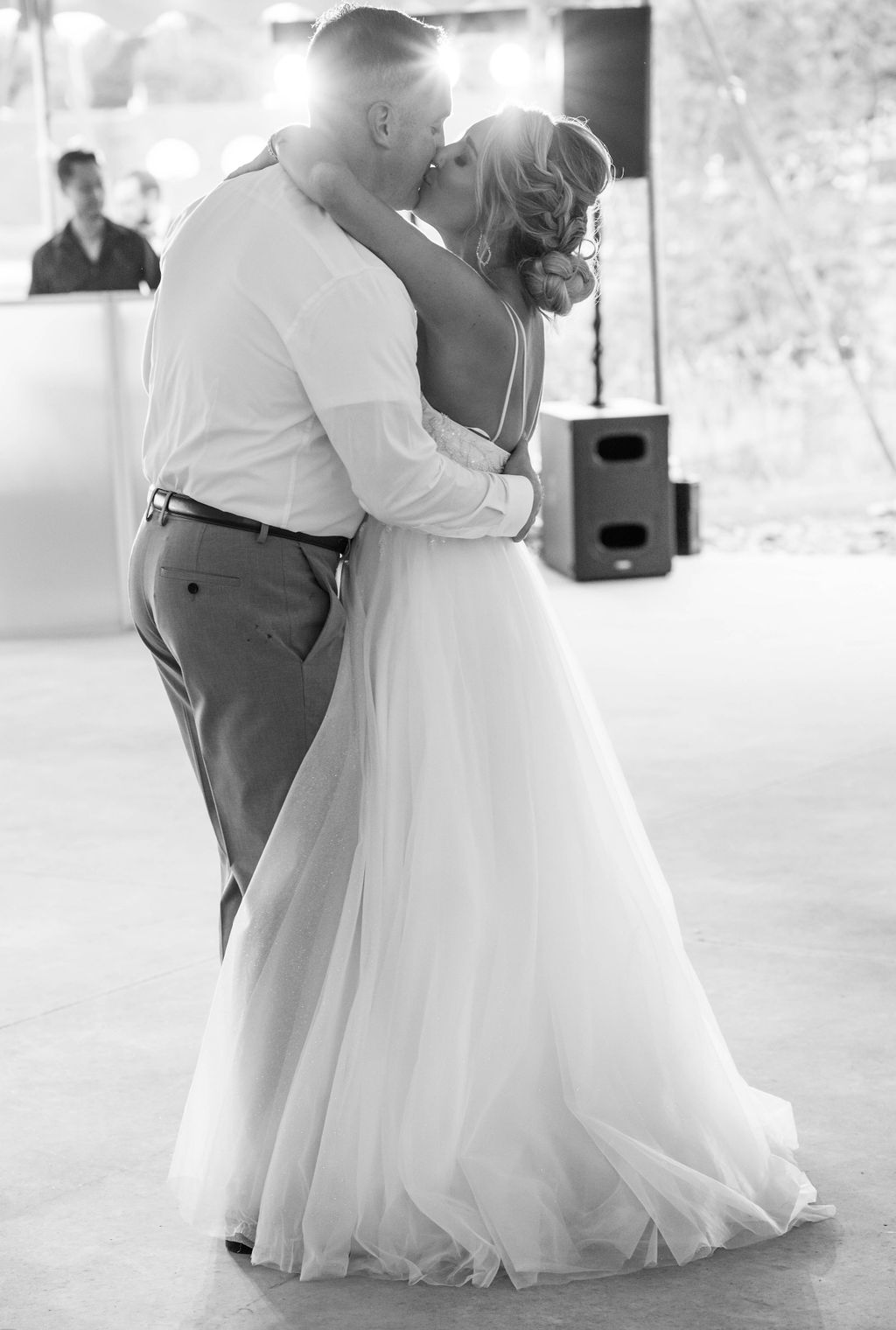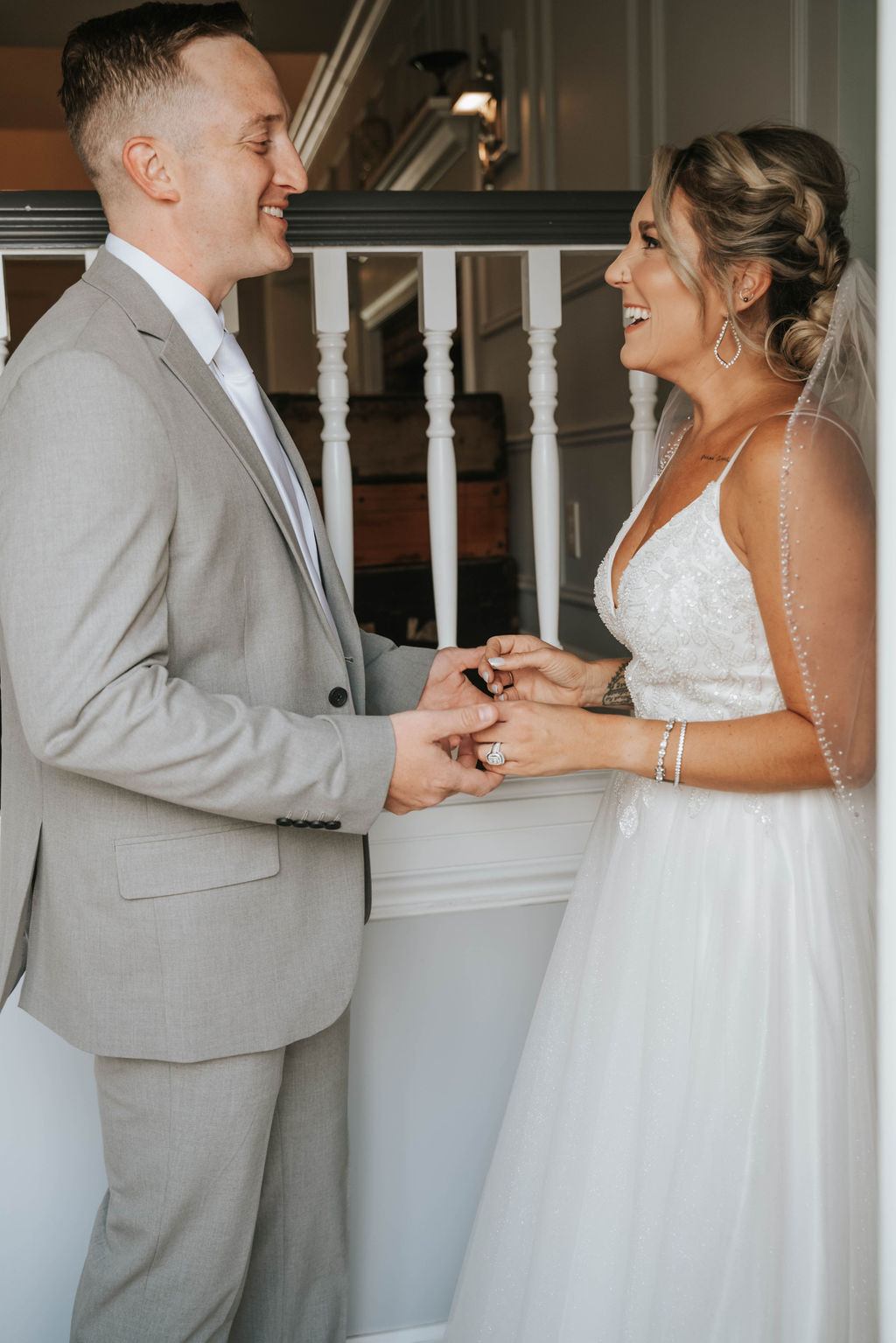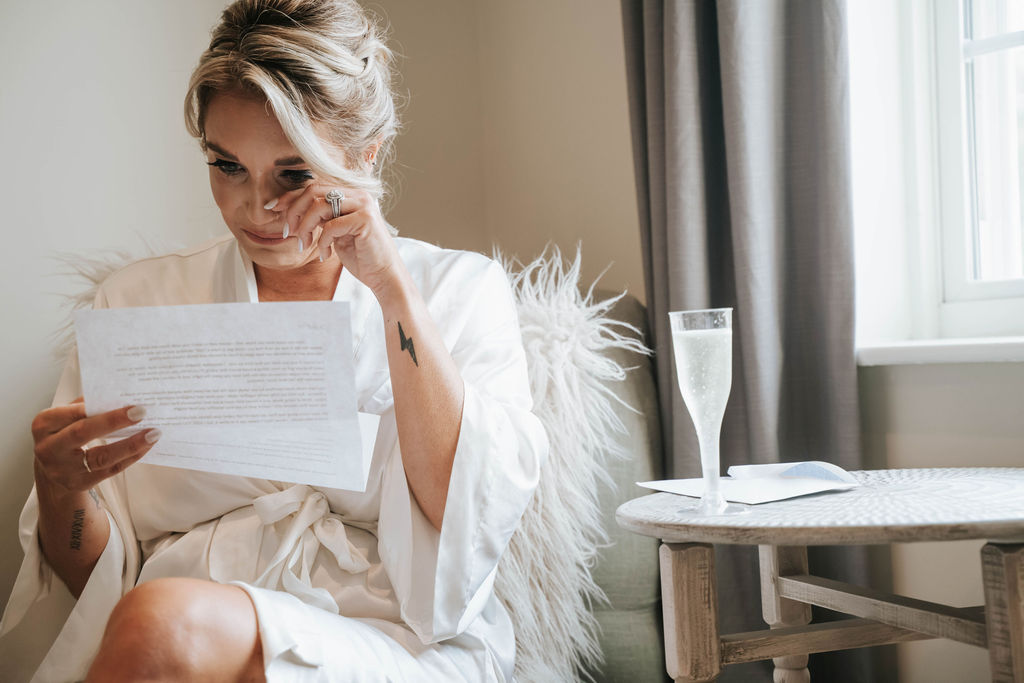 For flowers I didn't want to spend a ton of money because let's be honest, they just die. But I did want it to look a certain way and decided to do a mix between faux greenery I rented from Party Dreams Cleveland, and then hired SIL Flower Shop to do the centerpieces, florals for the arch and our bouquet and boutonnières. They were absolutely amazing and so responsive. I sent them my Pinterest board and ideas of what I wanted with the centerpieces and they nailed my vision! They also set it up the day of and it was such a weight off my shoulders!
For desserts I wanted to get a traditional cake so we could cut it, and then also went with cookies and cakepops. They FLEW! I didn't even get to eat one haha but I'm glad that everyone enjoyed them!
Cake: Southern Soul Baking Co
Cookies: Cookies by Courtney CLE
Cakepops: DaisyCakes Cake Pops (use code Samantha10 for a discount!)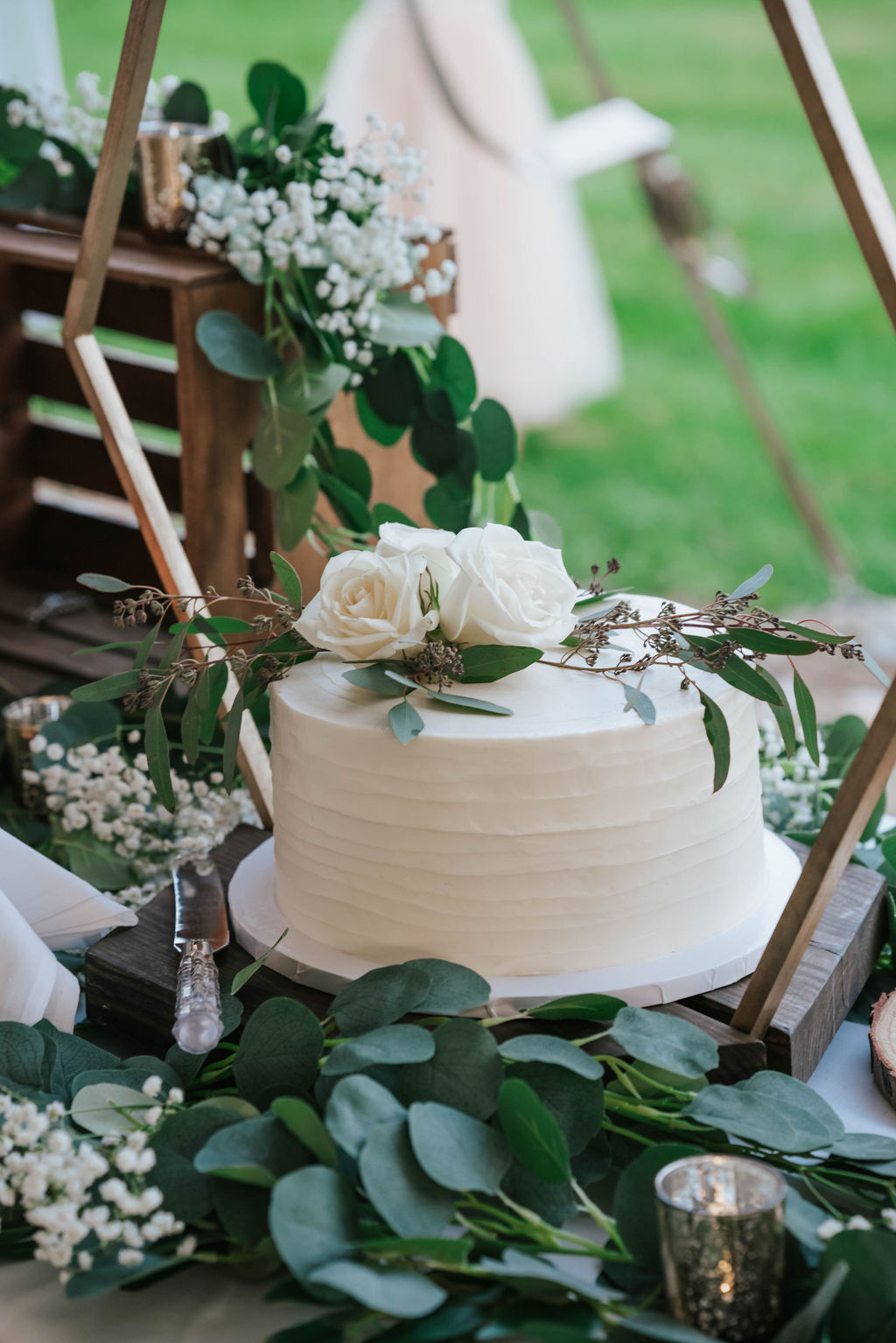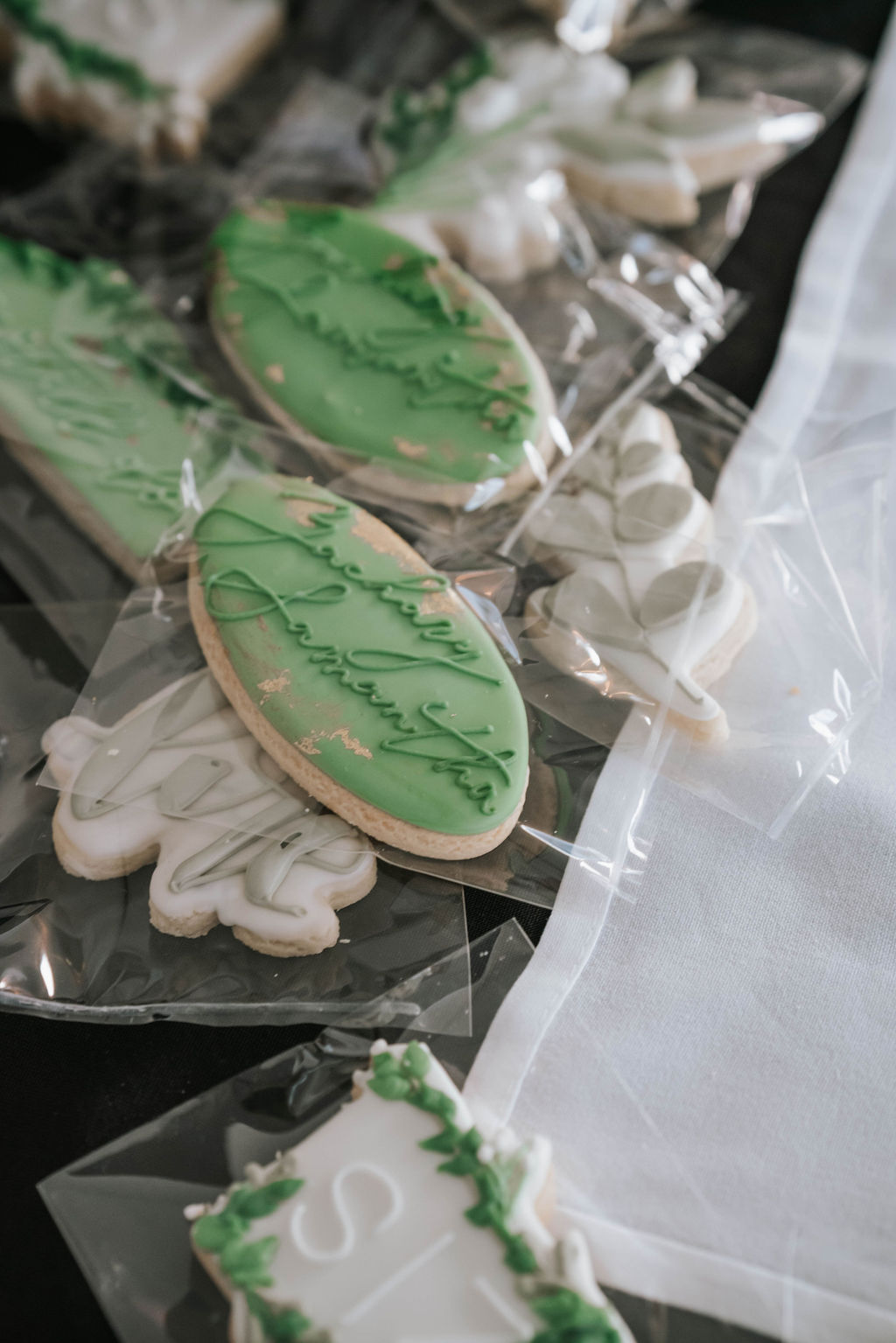 On to the rings! My husband's original wedding band is actually partially embedded into his finger. So we joke he can never leave me haha but since then, he's just been wearing silicone bands since we've never replaced  it. And with his job in the Army, it just seemed safer! But we decided that for our vow renewal, we'd say "I still do" with new wedding bands. We had the BEST experience with Alson Jewelers. They are a local, family-owned and operated business and simply the best around. They have a huge selection and they're also a full-service jeweler, meaning they have master watchmakers and jewelers on site and do all repairs on-site! We worked with Alex and she was SO helpful. We tried on a ton of different pieces but ultimately, we decided on these two. I couldn't love my band more! It's a Penny Preville design and Alson Jewelers is the only jeweler in the area that carries her pieces. I loved it for it's unique design but after picking it realized there are 11 diamonds, and although we celebrated our 10 year anniversary, we met 11 years ago. So it's kind of perfect! Alson Jewelers also having a Wedding Band Weekend September 24-25 and they'll have special pricing available! So if you're in the market, be sure to check them out!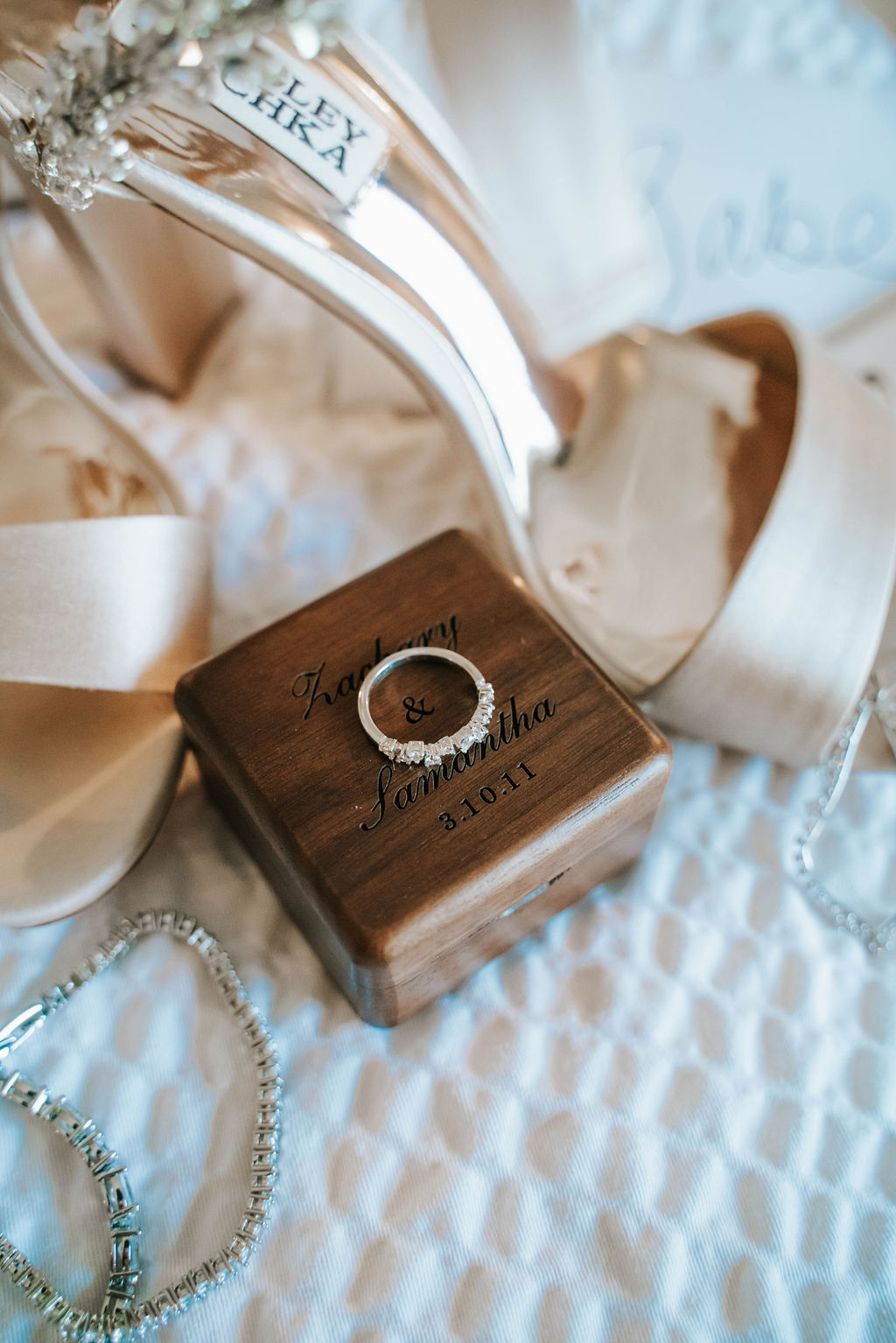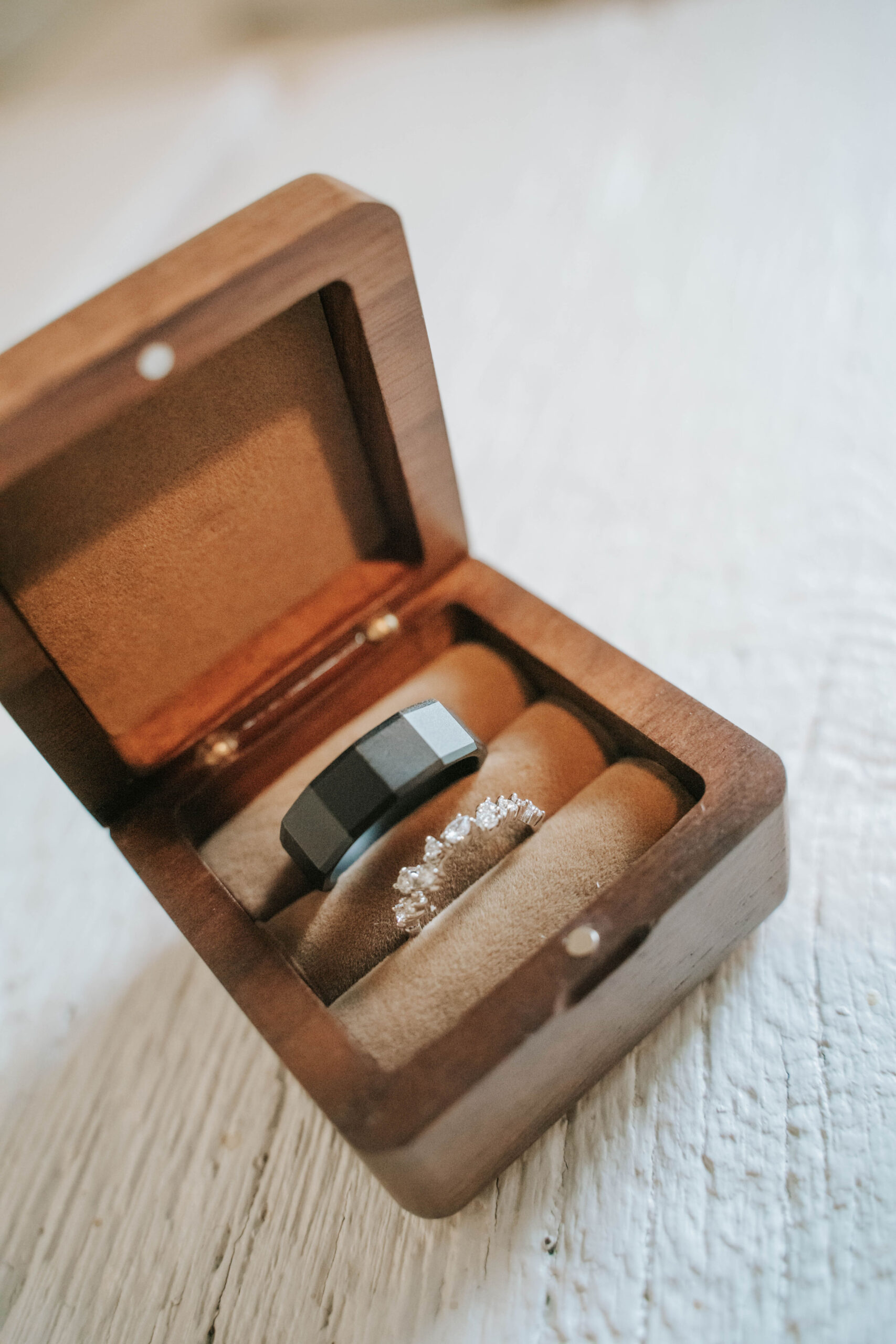 I really wanted gold Chiavari chairs and when I discovered my venue didn't have them, I started looking at renting them. Let me tell you, they can add up quickly! But then I found Weddingchairs.net; each chair is $4 to rent and that includes the chair and the cushion. You pay a flat fee for delivery, setup, tear down, and pick up and honestly, it completely changed the look and gave me the exact vibe I was going for. Highly recommend them if you're in the Cleveland area!
For hair and makeup I used Mane Chic and they're the BEST. They come to you and I've used them countless times. They nail the look I'm going for every time! I also got my spray tan by them a few days prior and I was the perfect amount of bronzed for the big day! If you want to book a service with them, you can use code Samantha20 for 20% off your first service!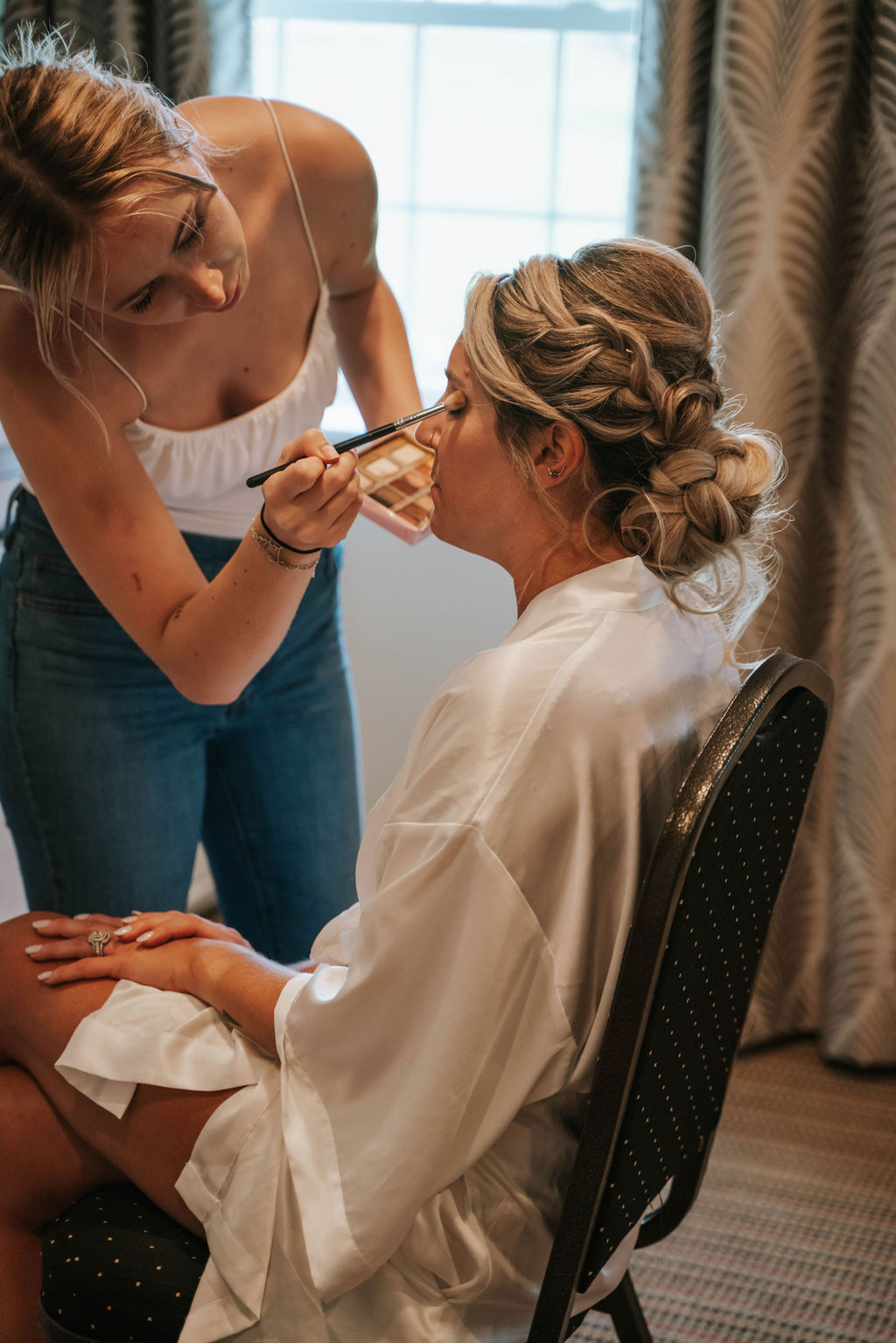 And last but not least, my dress. I wanted something white and I wanted an actual wedding dress since I didn't get to wear one the first time around. But I also didn't want to spend an arm and a leg. So while browsing on Google, I discovered that Lulu's carries wedding dresses! And their luxe line still only put me right around $300 for the most stunning dress. I added accessories: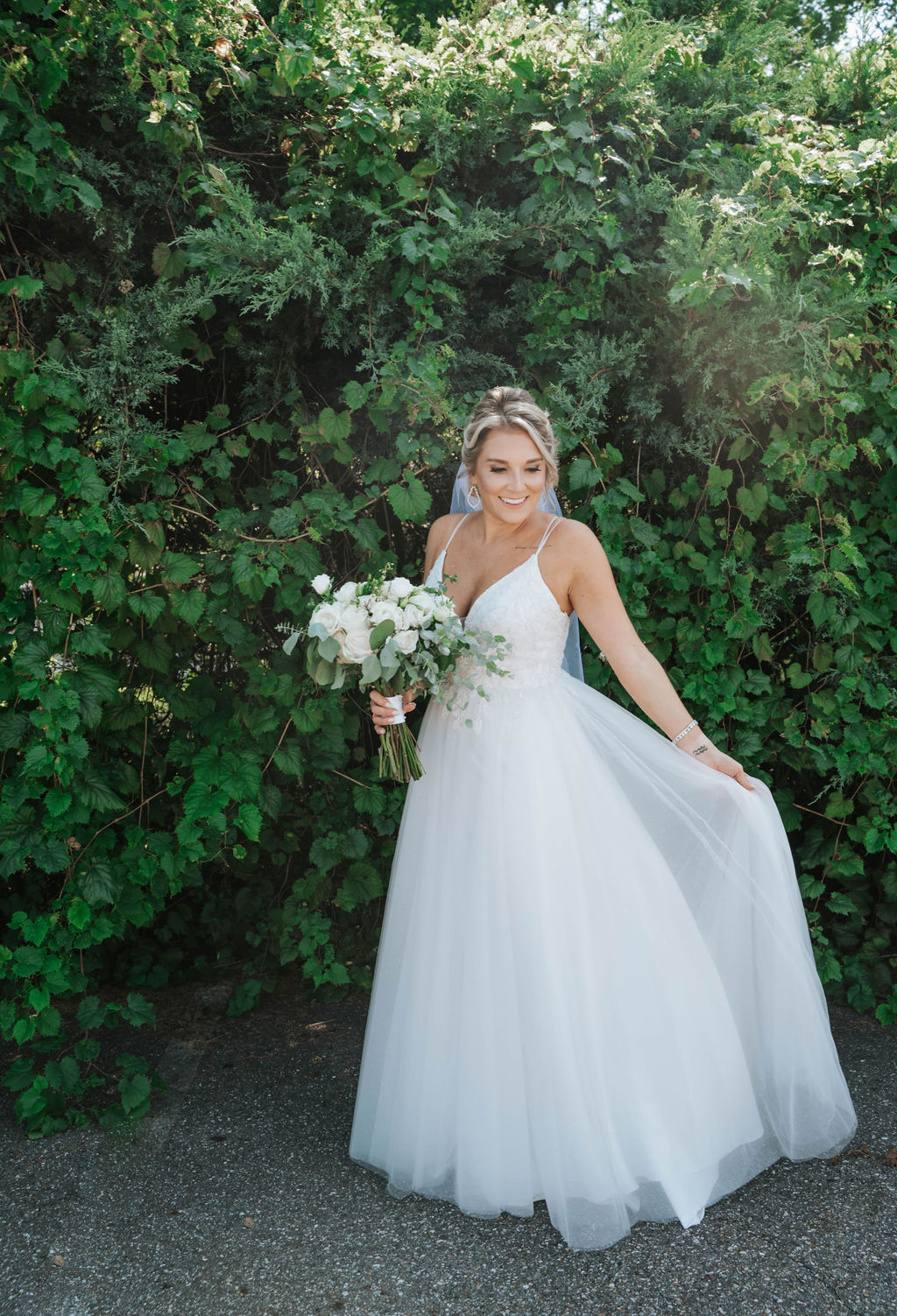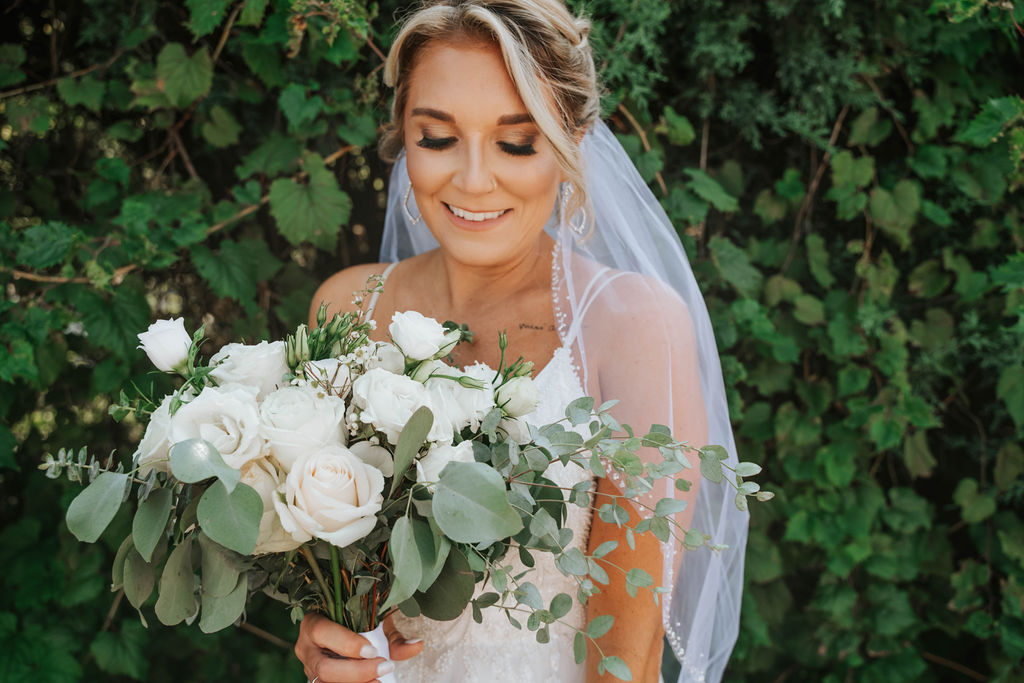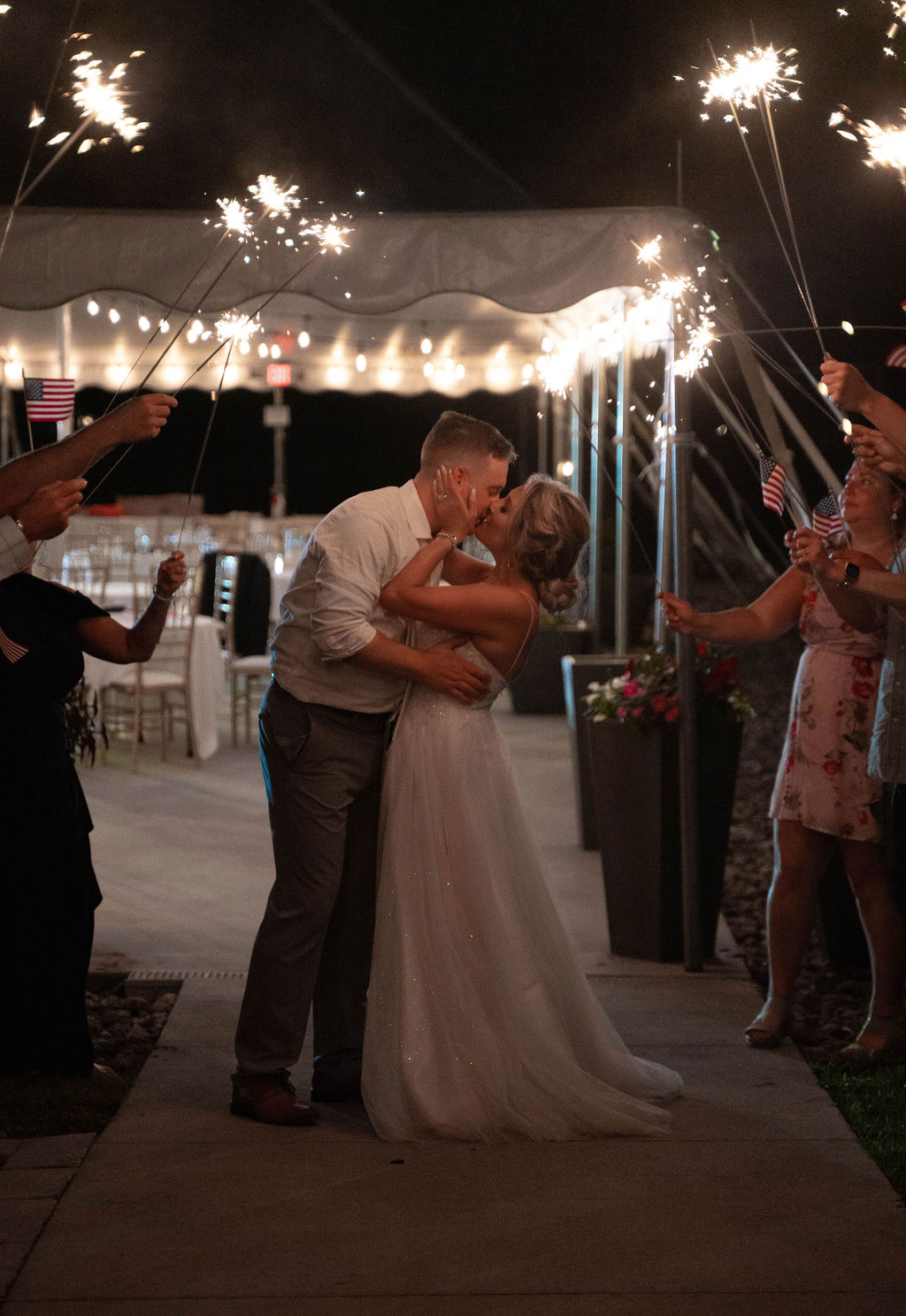 Our day was everything I could have dreamed of and more. We got to do all of the things we never had a chance to do and always wanted to. I got to dance with my dad, we were able to celebrate with family and friends, and having our kids there with us was absolutely perfect. We haven't had it easy over the years, facing deployments, separations, and moves beyond our control. But getting to celebrate our love and the life we've built still leaves me speechless. Just beyond happy with how this day came together.
It's never too late friends. If you eloped and want the party now, do it. If you were also a military family and never had the opportunity, do it. Just want to have a big party for a milestone anniversary, DO IT. You deserve it.
Questions? Leave them below! xo