We've been quarantined for a week now and honestly, it's been going a lot better than I thought it would. The kids have a *loose* homeschool routine as we adjust to our new normal. I've been taking their cues and realizing when they need a break. And with a toddler running around, plans sometimes need changed anyways.
But I received a message yesterday asking for activities to entertain toddlers during quarantine. Luckily I was pretty prepared and most of these items are from Amazon, so you can order and have them in a few days! *Amazon is delayed a few days due to delivering essentials and things first, so it may take a few days longer but at this point, all we have is time!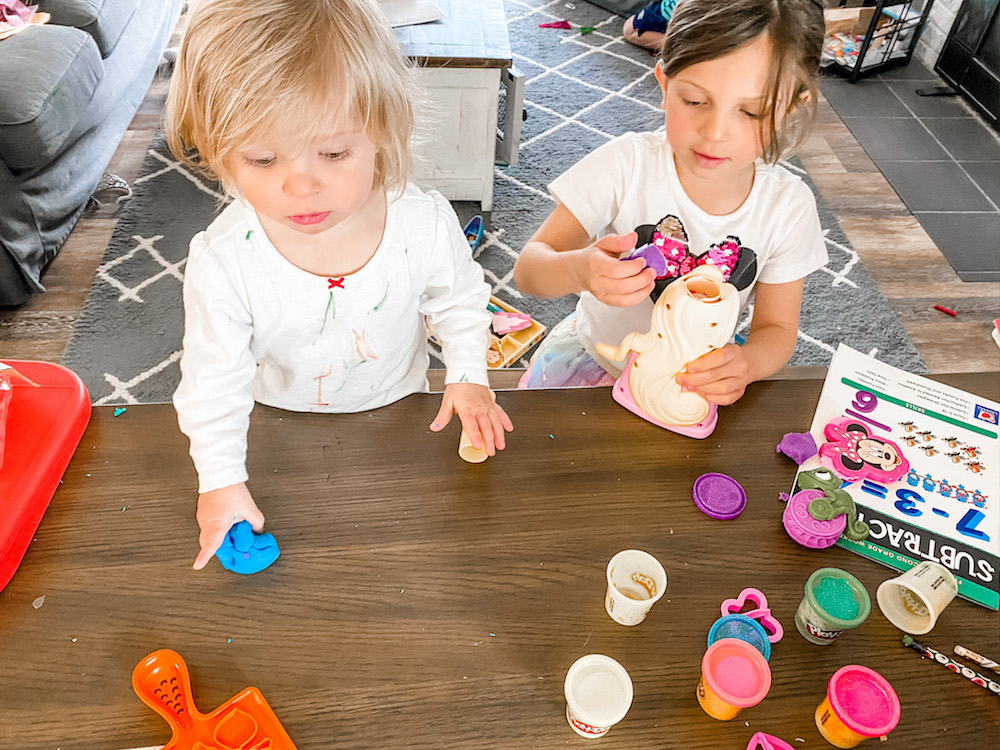 12 activities to entertain toddlers during quarantine
Bubble machine + extra bubbles: we love to dance with bubbles and this bubble machine is a "movement time" favorite! Even better, play Go Noodle "Poppin' Bubbles" on the TV and pop some bubbles! Don't forget to order extra bubble solution!
Indoor jungle gym: Piper got her game time sports climber for Christmas and LOVES it! Such a great way to help them burn energy inside the house.
Ball pit + balls– We've had this one forever but I actually just ordered this ball pit for our sunroom! Since that's where we spend most of the time, I wanted it to match our decor! And I also ordered these ball pit balls to match!

Water beads + containers: These water beads have been one of Piper's favorite "homeschool" activities but just make sure you watch them closely! She's pretty good about not putting them in her mouth but every now and again I'll catch her trying! haha You can also order these bins and different types of figures, etc to make different types of sensory bins. Great for toddlers!
PlayDoh + accessories: She had never seen PlayDoh until a few days ago, so she's still wrapping her head around it! But it's great for sensory play. Don't forget the accessories!
Play kitchen– I purchased this kitchen during the Amazon Black Friday sale but unfortunately it's no longer available for purchase, however there are a ton of other great options! I love this white one too! But it will keep the kids busy forever!
Mega Blocks- Mega Blocks are another great playtime activity. I find that when I actually sit and build with her, she's occupied and more interested for much longer. You can build objects, practice colors and numbers, and more!
Chalk: We love getting outside when we can! Again, be sure to watch the littles because they're curious and will sometimes try to taste the chalk! But you can practice colors, numbers, draw a track and let them push Hot Wheels cars, etc.
Tabletop Paper Roll dispenser: This paper roll dispenser has been a HIT! We tape a piece to the table and let her color and paint on it! Who knew blank paper, something so simple would be so entertaining? You can also order paper refills if necessary.

Bubble bath + color tablets: When in doubt, take a bath! We love these color tablets to change the water color, and of course bubbles make everything more fun.
Books: We are BIG readers in this house and having a "library" from the past 8 years definitely helps. But if you don't have a ton of books, you can order a few here and there, subscribe to a Bookroo subscription box, or read some for free on Scholastic!
Outdoor play toys: We've been trying to get outside as much as possible (as long as the weather cooperates), and this push car has always been our favorite for walks. We also love our bounce house (can be used indoors too in inclement weather).
Who knows how much longer we'll be quarantined but we're going to do our part to try and flatten the curve.I hope you enjoyed these activities to entertain toddlers during quarantine! Comment below with any questions! xo
Be sure to check out our other posts regarding the quarantine: 
30+ things to do with kids during social distancing 
Extended Spring Break Schedule + FREE printable