Being pregnant is an absolute joy, but it definitely has its ups and downs! Chloe shares her experience with us… take it away girl!
I'm so excited to be guest posting on Samantha's blog today! I just love her blog and her little boy is too cute. 🙂 My name is Chloe and I blog over at
Rainbows & Honeysuckle
. I just recently had my little boy Travis a couple of months ago, and today I'm going to address all of the things that
I do not miss
about being pregnant!
Towards the end of my pregnancy, a lot of people started telling me that I would miss being pregnant. They would tell me how they still imagined feeling the baby kick and that it made them nostalgic. Being almost 40 weeks pregnant, and extremely huge and uncomfortable, I thought how on earth would I miss being pregnant?
Seriously, a belly this big gets in the way of everything.
As soon as I was able to get up after giving birth to my little boy and head to the bathroom to shower and change, I was so excited to be able to bend over again! Having to squat to pick anything up off the ground and having to get other people to tie my shoes for me had gotten way too old. It was the strangest feeling to be able to do those things myself again!
I loved being able to fit back into my clothes again. I look at pictures of myself at 40 and 41 weeks pregnant (Travis was a week late!), and just cannot believe how freaking huge I was! Not having much money for maternity clothes, I basically just stretched out all of my regular sized shirts.
See the bottom of my belly poking out of my shirt?
I don't miss not being able to carry anything for myself. Yes, it was absolutely wonderful having people help me out all of the time, but I felt like being pregnant basically made me handicapped and that no one thought I could do anything for myself. I was working at a restaurant and I couldn't carry out food to my tables, I couldn't bring out high chairs, and I couldn't move around tables. I felt terrible having to ask people to carry out my trays of food and not being able to take it myself.
I don't miss feeling like I have an alien in my stomach. In the last weeks of pregnancy, when Travis moved around, you could literally see him roll across my stomach. You could see his kicks protruding out of my stomach. It was the strangest feeling, and not once have I had that feeling since being pregnant.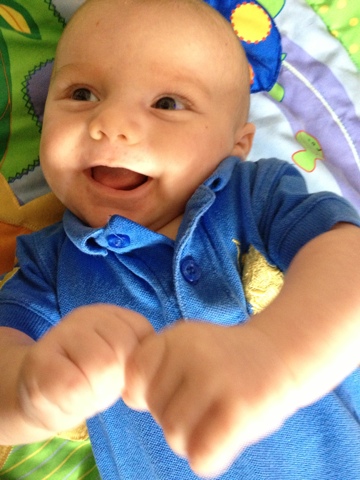 Isn't he just so adorable? <3
Although my pregnancy was very easy and uncomplicated, and we're definitely planning on having more children in the future, the end result of the pregnancy is way too amazing to miss being pregnant for even one second. And we love our little boy more than anything in the world!
"Check out this month's featured blog, Life According to Kenz"