Style challenge recap: week 3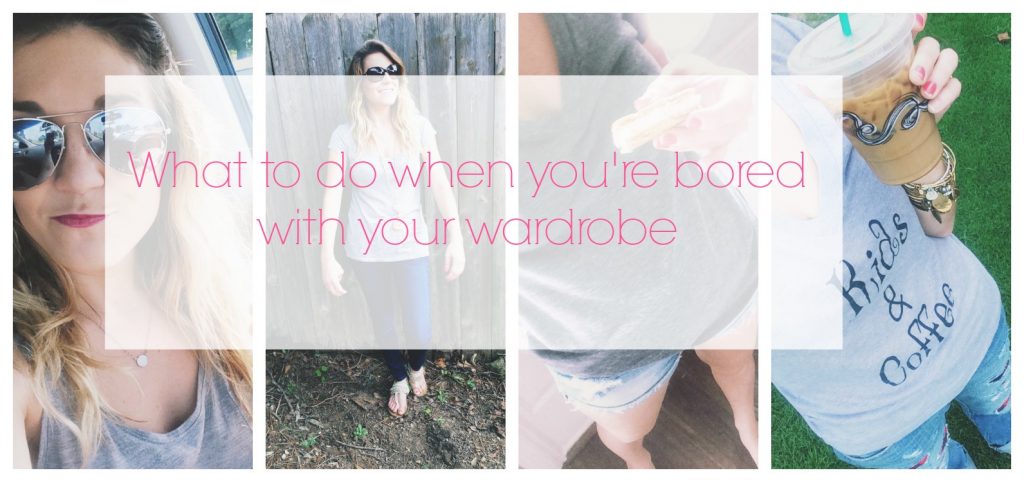 I'm not going to lie guys, last week's style challenge sucked. I had to wear the same outfit for an entire week and it was no fun. Not only is it 100 degrees here in Georgia, but I have two small kids that spill their lunches on me, touch me with their sticky hands, and hug me with their snotty noses. I love them to pieces and normally don't mind these things, but when I'm supposed to wear the same outfit for a week, it gets tough.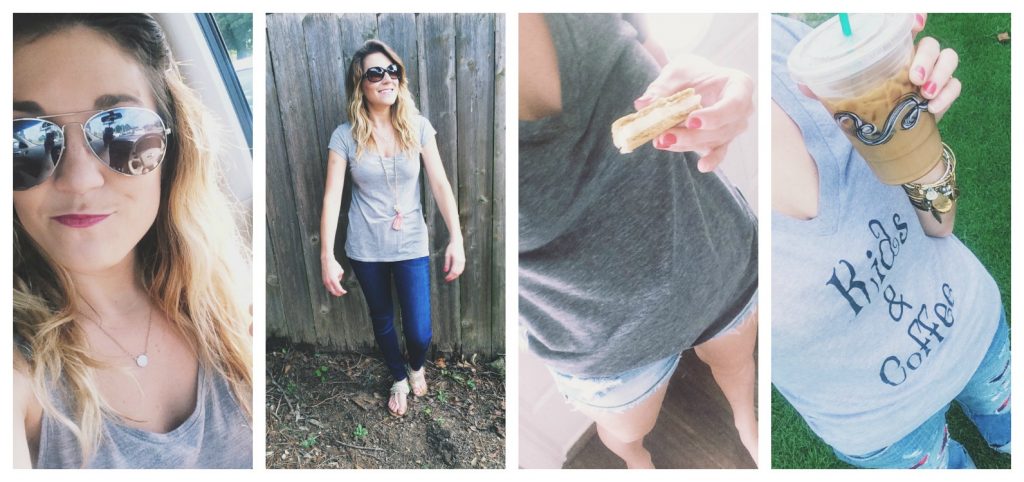 So I may have bent the rules a little by wearing a variation of the outfit all week. I chose a plain gray v-neck, jean shorts, and white sandals. So throughout the week, I just switched back and forth between two tees, two pairs of jean shorts, and two pairs of jeans. Cheating? Eh maybe. But that was the only way I was realistically going to make it through this challenge.
By day 6, I cracked and wore a tee with text on it. It was still gray, so maybe that counts? I don't know. But wearing the same thing all week made me want to wear everything else in my closet more than ever. So I guess that was the point; you'll look at your closet in a new way after this week's challenge.
But wouldn't you know it, the week I had to wear the same thing over and over again, I added about 15+ new items to my wardrobe. Darn you Fourth of July sales…
So no, I haven't worn any of it yet and yes, I'm dying to. So I'm hoping that this week's challenge can incorporate them somehow.
This week's style challenge: Have a stylish friend dress you for a week. I love this challenge for so many reasons, but the biggest one being that I don't have to think about what I'm going to wear all week. How nice is that!? And my girl Amy, my friend and photog around here, has great style so I know she will make me look fabulous. Here's what Cosmo says about this week's challenge:
Invite your friend over and let them loose in your closet. Make sure to set up ground rules for work outfits in advance, but keep in mind that the fewer restrictions you give them, the better.
Leave the room to let them work in private.
Once they have put together a week's worth of outfits for you, bag up all your other stuff and either put it in a spare room or even have them take it back to their place for the week so you won't be tempted to cheat.
Send them a photo of your outfit every day for a week to prove you are really wearing what they chose for you and update them on how you're feeling about the process.
The Payoff: It's amazing how giving control to someone else can help change your perspective. It may be uncomfortable at first, but stick with it. The more open to the experience you are, the more you will get out of it.
SO get to it… can't wait to see what you come up with! Remember to hashtag #SamanthaShowStyleChallenge on Instagram so I can see 🙂 xo