Hope everyone survived Frankenstorm and is reading this in a warm, dry place!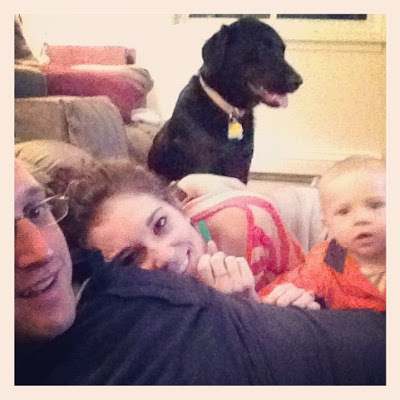 Snuggling during Sandy
After the huge hype up here in New York, it was pretty uneventful. We had crazy winds and a ton of things close early but other than that, we're all fine. No power outages or flooding or anything.
Unfortunately, some of New York wasn't so lucky and my thoughts and prayers go out to those who were affected by this crazy biatch of a storm.
Bubba and I are slowly on the uprise from our sickness this past weekend; but hubby woke up in the middle of the night and got sick a few times. So unfortunately, it's probably going to be a viscous cycle for awhile. Lots of hand washing, orange juice drinking, and snuggling seems to be in our forecast.
I cannot believe it's almost November! Why didn't time go this fast when Z was deployed?? Anyways, a new months means…
SPONSORS!!
Since I JUST started charging a fee for advertising space, it's super cheap. Like really, really cheap. However, I want to give my loyal followers an affordable way to have a place on my blog… so if you are interested in sponsoring Hooah and Hiccups this month, head over to the Sponsor tab and get hooked up by Passionfruit! The stats will be up-to-date by the time I publish this entry so hopefully they will make you want to take off your shoes and stay awhile 🙂
I am so humbled by all of the amazing friends and followers I've made on this journey. I started this blog to document my experiences during deployment and can't believe what it's grown into. I cannot WAIT to see what the future holds!
Stay warm and safe loves 🙂