Simple morning makeup routine.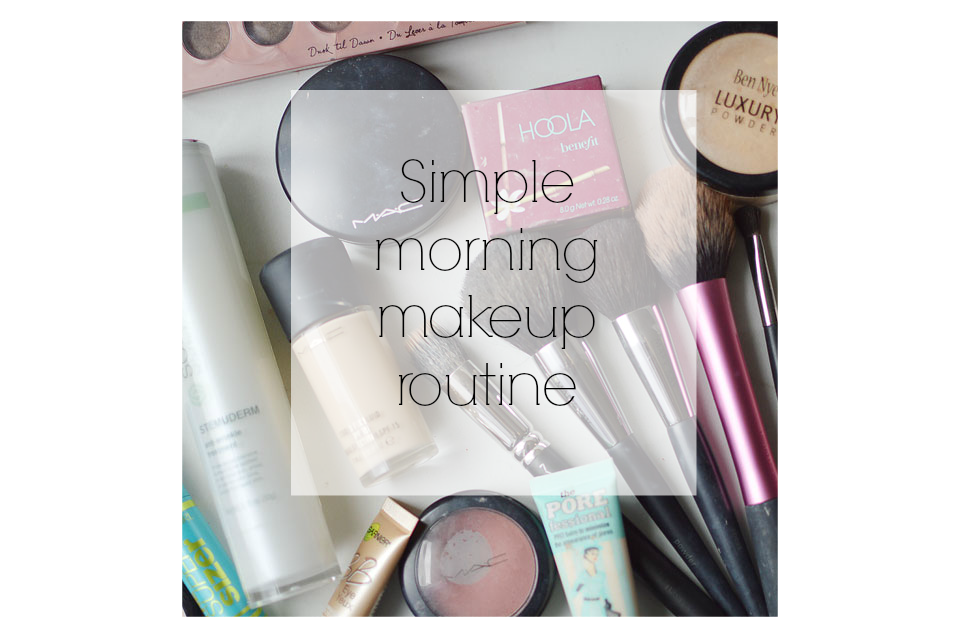 I didn't start paying much attention to makeup until last year. I've always liked it but I never really cared to find and try new products. Well enter blogging and I'm being bombarded with products on the daily. Which obviously I'm not mad about… I've become obsessed with it now. So I thought I would give you a little update on what I'm currently using in my day-to-day makeup routine. Mind you, I'm usually holding a crying child in my arms or stopping mid brush stroke to keep her from throwing things in the toilet. So I try to use the minimum when I can. 5 minutes or less is best for me! (Like I have a choice…)
Here's my simple morning makeup routine and the order I put it on:
Foundation: I currently use MAC Studio Fix. I love love love this foundation. Prior to using this I used Elizabeth Arden and I really loved that too. I was using Mary Kay between the Elizabeth Arden and MAC so I can't remember exactly what it was like compared to MAC. Maybe I'll buy that when this runs out! But it has excellent coverage and doesn't make my face look or feel greasy.
MAC Brush 130: I used to just put the foundation on my hand and use my fingers to apply it. Total newbie move. This brush helps me to use less foundation at a time and gives me an airbrushed effect. A lot of people use Beauty Blenders and I've tried but still prefer this brush.
Powder: MAC Mineralize Skinfinish Natural-Medium Plus. I purchased this simply because it's what they used on me when I went to get my makeup done at MAC last Christmas. But I liked it because it was soft enough to give me a little color without using bronzer but not super powdery. I'm looking for suggestions on another powder you all love though because I'm not stuck on this one.
Large Powder Brush: I'm using a Mary Kay but couldn't fit it, but it looks like this one I've linked to. And I put powder all over my face after foundation.
Blush: Sheertone Blush in Blushbaby: Again, I purchased this last Christmas because it's what they used on me and I liked it. It's a great everyday blush and that's what I wanted. But I definitely think there are cheaper and just as good options out there.
Blush Brush: I'm also using a Mary Kay one but it's something like this. Smaller than the powder brush and I just do a little blush on my upper cheek bones.
Bronzer: I love this Hoola bronzer mostly because it's brown, not orange. A lot of bronzers are straight up orange but this blends for a natural looking tan. It can be used to contour but I don't know how to do all of that so I just use it for a light all over coverage.
Bronzer Brush: Like I said, I don't know how to do all of that contouring stuff haha the Hoola comes with a brush that you can use to contour and that's why I originally purchased this brush, to blend. But now I just use this brush to put bronzer all over for a very light, blended look.
Eye shadow: NYX Dream Catcher Palette. This has quickly become my absolute favorite. I use this one every single day; neutrals have always been by go-to and this entire palette is just so perfect. It stays on all day and looks similar to one of the Naked Palettes. I can't bring myself to spend that much on eyeshadow, but maybe one day I'll treat myself and compare this one and that one.
Eyeshadow Application Brush: I use something like this to apply the eyeshadow on my lid.
Eyeshadow Blending Brush: Then I take a brush like this to blend it up and lessen the harshness for my daytime look.
Eyeliner (top): I'm using a liquid eyeliner that CoverGirl sent to me over the summer. I really like it; it's almost like a felt tip pen and it's easy for control. You can also rotate the pen to get a thin to thick look but I don't know how to do wings, cat eyes, etc. I'm a simple folk when it comes to that haha.
Eyeliner (bottom): Pro Longwear Eyeliner. I use this lightly in my waterline.
Mascara: Covergirl Super Sizer Waterproof Mascara. CoverGirl sent me this mascara over the summer and I have been using it daily. The brush is super thin and it doesn't clump.
Other products I use (not daily):
Powder: I use this Ben Nye Banana Powder once I'm finished with everything. It has a yellow tint to it so it neutralizes everything and hides any harshness you may have.
Primer: Porefessional; This is pricey, so I only use this for special events and shooting blog photos. It makes my face super soft and gives it an even surface. And it smells amazing 🙂
Highlighter: Doll 10. I got this product in an Ipsy bag and have only recently been using it. I don't get the whole highlight, stroke, contour, whatever… so I just do a little above my blush line, near my eye. At least I think that's where it's supposed to go. But it's more of a cream and it gives me a little "brightness" to me.
Undereye eye roller: Garnier BB. I found this on the Target beauty section clearance end cap (if you didn't know one existed, go stalk it… weekly).  I use it more as a concealer to get rid of the bags under my eyes and I will use either this or the next product if I use anything at all…
Concealer: Bye Bye Under Eye. I received this sample in an Ipsy bag and if I use a concealer, this is it. It's kind of thick but I like that and the fact that it covers really well.
Eyebrow Powder and Brow Mascara: NYX Eyebrow Cake Powder : I've only ever "done" my eyebrows maybe three times and I'm still undecided how I feel about them. Maybe I'm just not doing it right! But if I do anything to them, I just use a little of this powder to fill them in and then use the NYX Tinted Brow Mascara to control their wildness.
Other shadows: I received a palette from Julep when I was a Julep maven and I've been using that every so often. They are really pigmented which is awesome, but not so much for an everyday look.
Skindinavia Primer and Finishing Spray: I received these from Skindinavia a few months ago, just when Georgia was throwing it's hot and humid weather at me… and I love it! I like the setting spray more than I like the primer because I'm hooked on Porefessional. But if you prefer spray ons, this is a great one!
And last but not least, how am I going to carry all of this makeup when I travel?? I received this adorable makeup bag from Georgia Totes and just had to share it with you! It's handmade and personalized… how cute is that? I love that the inside fabric is different than the outside, it's a perfect size for traveling, and it's durable. This would make a perfect Christmas gift and as you know, Christmas will be here before we know it! Also great for birthdays and bridesmaids 🙂
Now it's your turn! What are some of your favorite products in your makeup bag? Any recommendations for me?