So yes it's super late and yes I'm falling asleep; It's been a long emotional day for a multitude of reasons however, I wanted to share my September Birchbox with you and review all the goodies!
For those of you who don't know what Birchbox is, it's a service that delivers new beauty and lifestyle samples to your front door every month. This way, you can try a product to make sure you like it before you purchase the real thing. How many times have you wanted to try a new shampoo or nail polish but worried you'd hate it and be pouring your money down the drain (literally)? Well, no more wondering! This is where Birchbox comes in.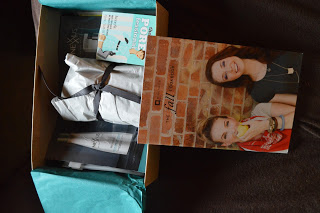 For me, this is a once a month treat to myself. I work hard to be a good wife and mommy and often neglect my own needs in order to make sure my boys are happy. So what better way to spoil myself than to receive and try new products every month by getting them delivered right to my door!
Still need convincing? It's only $10 a month and it's always a surprise. Who doesn't love opening mail and packages, especially when you have NO idea what's inside!? So here's what was in my Birchbox, and as I learned today, they differ from person to person. What was in yours?!
Benefit Cosmetics: The POREfessional- LOVED! It's a primer to camouflage pores.You can put it on before you apply makeup or after you already have, and I could seriously notice a difference. It was light, fluffy, and non-greasy and I loved the smooth finish it gave my face.
Color Club: Birchbox Custom Polish-Definitely out of my comfort zone but I really liked it! I just recently started wearing nail polish and have no idea what is in when it comes to nail color. So thank you Birchbox for giving me a clue! It also dried pretty quickly which is a must for me.
kate spade new york: Twirl- I wanted my husband's opinion on this one and his response? "Oh yea!" haha so I guess that means he liked it. It was very sweet which is what I usually go for and I have to admit I will probably be purchasing this when my Emporio Armani runs out 🙂
Nexxus: Pro-Mend Split End Treatment System- Didn't get to use this yet but anything that's going to help in the hair department is okay in my book. I've dyed my hair so many times and am looking forward to giving it some much needed TLC.
twistband: Hair Tie- I absolutely love the concept and actual product. I'm guilty of always having a hair tie on my wrist and with these, it almost looks like a bracelet that I meant to accessorize with.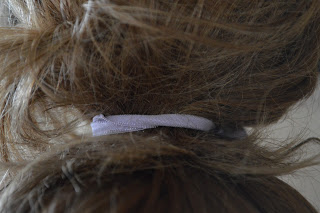 These products were topped off with a cute little tili bag, a fall look book and a $25 gift card to Madewell!
Very pleased with my first experience and cannot wait to see that little pink box at my front door next month! Don't miss out…you deserve a little spoiling 🙂 Go here to sign-up for your own!