Playgroup: Meet 2 and 9/11 Reflection
You know you're the mom of a toddler when you get excited to see "Choo Choo Soul" on Disney Junior or you start singing "The Wheels on the Bus" and then realize you put your child down for a nap 20 minutes ago.
Yep, we're all guilty of it. There's something catchy about children's music that we can't help but sing-a-long. Well today, not only did we sing-a-long at playgroup, but we played along!
If you remember last week's
meet
, we made maracas and kazoos; obviously we had to put them to use! We also had the kids bring drums, guitars, and basically anything else that makes noise. We had a blast!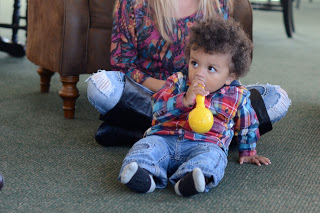 We snacked on goldfish and fruit and ended up staying 20 minutes after we were supposed to; it was a rockin' good time 🙂
In addition to playgroup, we all know what today is; September 11th, a day we will never forget. I was a freshman in high school, and third period Algebra had just started. Someone from the front office came in and told my teacher the World Trade Center had been bombed, and to be honest, none of us knew what that even meant.
We would watch in disgust as the towers burned and the count of those who lost their lives continued to rise. We would ask questions and receive no answers, because no one knew what to think or what to do. We would grow up in the state of war, yet safe in a place that was halfway across the world from any "real" danger.
It wasn't until I married my husband, and he went to fight the very war that was started that day until it really hit home. As we continue to fight this war, whether or not you agree with it and why we are there, think of the men and women who have made the ultimate sacrifice.
To those who responded that morning, to those that were the first ones in, we thank you and will never forget your selflessness. To our troops, who have been fighting this war with no end in sight, we thank you for your bravery and commitment to keeping America safe.
Today, hug your loved ones and be thankful for all you have. Say I love you, thank a serviceman or woman, and remember the very reason we have the freedoms we do.
God bless America.
I am proud to be an American today and always.
9/11, we will never forget.