In case I had you fooled, I am not a real blonde. In fact, I've dyed my hair so many times I am not entirely sure what my natural hair color is. I've been dying my hair since I was in 7th grade and not to date myself, but that was a LONG time ago.
Before
Well, I've been going back and forth on what I wanted to do. Unfortunately and fortunately, my hair grows extremely fast, and keeping up with blonde highlights can be pricey. So, I decided to do my research and look into dying my hair at home. With hair color in a box. Cue the shaking heads and gasps.
I know what you're thinking, because I was thinking it too. I have heard horror stories about self-dyed hair and even though I used to do it all the time, I was nervous to start it up again after having it done professionally for so long.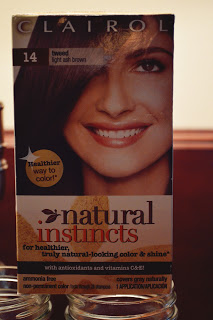 As recommended by Good Housekeeping
I took my advice from a Good Housekeeping article and I have to say, I'm pretty pleased with the results! I've had a great time being blonde but right now, staying in the vicinity of my natural color is more economical for us. With a speeding ticket and a car accident this past week, we will be hibernating and watching our spending for a while!
After
Here's to brunettes having more fun 🙂
And be sure to keep entering the giveaway for a $50 credit towards a full session with 516 photography! In case you missed it, you can read all about the details here. Only one week left so make sure you are entering everyday! Good luck!