This post is called As a mom, I… because I am a mom. I know… WHAT?! It applies to dads too!!!
Hey lovelies!
As moms, a lot of us are introduced to new, awesome (and sometimes, not so awesome) experiences.
Us moms and dads? We've got some mad skills. Talent, if you will.
Hence the NEW link-up. Time to brag, ladies and gents! My co-host, Melissa (from
After We Tied the Knott
) and I would like to present…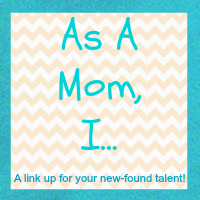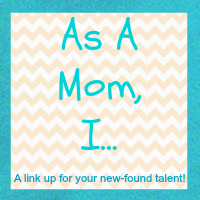 Join in and share those goofy, awkward, interesting Mommy Moments!
As a mom, I…
have gone against all the "rules" of parenthood. My child does not have a bedtime routine and he sleeps with us every night.
Some people may not see an issue with these so called "mistakes" that we've made, and most of the time, I don't either.
We never pushed a night time routine because this kid is chock full of energy. The only way to get him to sleep is to nurse him (which we are working on weaning) and so the whole bath, story, nurse, bed time just never worked for us. I suppose it's never too late to start but at this point, I'm hoping things just fall into place.
He takes two naps; the first one being mid morning and the second one being early evening. We've tried to cut the evening nap out but he just seems to fall asleep regardless. And naturally, this delays bed time, sometimes until 10:00 p.m. or later!
If you have a suggestion to cutting this nap out, please let me know…
Co-sleeping is largely accepted everywhere else in the world but in the US, it's frowned upon.
For us, it was the best choice. My husband was in Afghanistan and I didn't have the energy to wake up and get my baby back to sleep on my own. He has slept with me, in his bassinet, and in his crib and eventually, we gave up putting him anywhere except in bed with us. Neither of us mind and Bubba won't go to bed any other way.
Recently, however, it's become a bit of a struggle. He's a big baby and I'm usually half-way off the bed with a foot in my rib or in my face. We've tried letting him cry it out, twice, and it was absolutely horrendous for all of us. It works for a lot of people but it wasn't the right fit for us.
If you have a better suggestion on what to do to get him in his big boy bed, please let me know that answer too!
So as a Mom, I snuggle my baby every chance I get. I fall asleep with his arms around my neck and wake up to his sweet kisses and "Mama" in my ear. Why?
Because I know that one day he is going to wake up and want nothing to do with me. He's going to lock the door to his room, blast his music, skip family dinners, and maybe even tell me he hates me here and there.
I've learned my lessons and plan on changing sleeping habits and routines with the next baby. But for now, I'll enjoy my extra time with my first born, and cherish every single second he falls asleep on me and wakes up next to me.
…tell us what you've learned to do as a parent!
document.write('